"VPN directly via your own WLAN router "
VPN-Services can be used on many different devices with the appropriate software and apps, but some devices are not included. Most SmartTV, Apple TV or Android TV setup boxes cannot be connected directly to one VPNConnect server. That may be for many who just like to see devices such as Kodi or TV broadcasts from abroad, but little satisfactory.
This problem can be solved by using a VPNConnection to its provider created directly through the router at home. All devices which are then connected via cable or wireless with this router can then secure VPNTunnel.
advantages of VPN Routers at home:
You can VPN- Use client routers to connect to the entire home network directly VPN Connect service. All of your devices will be connected equally and 24 hours a day without the need for additional software on the devices.
The routers are ADDITIONALLY used to every existing internet access router and thus enable the use of the internet as before, so also telephony and all other services remain unaffected. Telephony or other services will continue to work.
By choosing the router used (wifi or cable connection) you can still decide whether the device is connected to the Internet VPN or without VPN to use directly.
No changes to the existing Internet routers (FritzBox, Speedport, etc.) necessary. Started up in less than 10 minutes.
VPN-Client routers are easy to install and do not require any advanced knowledge to be used. We have created numerous instructions for all the routers described and will also be happy to help you with the setup and commissioning. However, we do not receive commissions from the manufacturers, nor do we have any other business contacts with them.
VPN Router + VPN Services provide reliable protection against research and warnings and are not easily circumvented by young people at home, making it an ideal solution if you want to reliably protect the entire household.


VPN- Home routers replace software on the devices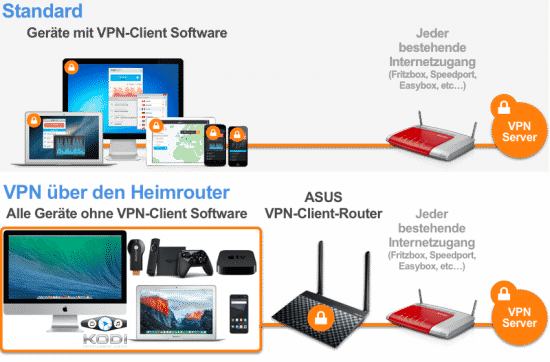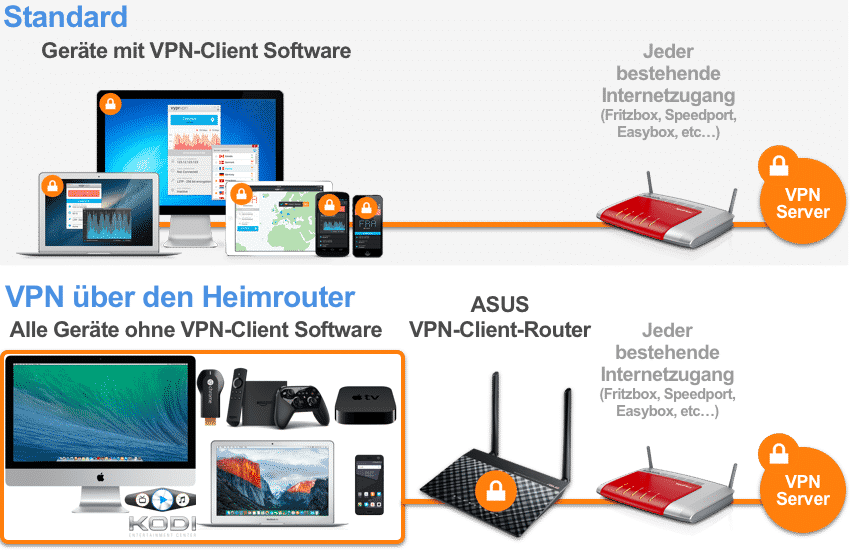 What do you need for one? VPNRouter at home?
Everything you need for one VPNRouter at home with one VPN-Service can be found in this article. Use the following options if you want to jump straight to a topic.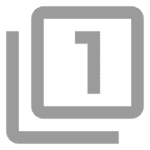 ---

A wifi router with VPNClient function for PPTP, L2TP or OpenVPN (Protocol)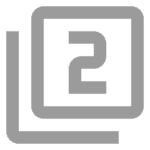 ---

A VPN Service that you can use on routers also comfortable and secure.


---

German instructions to take the router into operation and the VPN to use.
Which VPN Functions does the router need?
There are two different ones VPNFunctions on routers:
The router connects to one VPN-Service, then you need the

VPN client

feature.
On the way to your router via VPN connect with the

VPN server

feature
You need: "VPN-Client function "on the router!
The function that the router can call most providers: "VPN client" There are then still different protocols that are supported z.Bsp. PPTP, L2TP / IPsec or OpenVPN, So it may be in the specifications of the router: VPNClient PPTP or too VPNClient OpenVPN.
In the manuals or specifications of the provider reads this then, for example, as follows:
VPN client

PPTP client

L2TP client

OpenVPN service

Wireguard client
Not with others VPNConfuse functions!
However, others are easy to confuse VPN-Functions of routers such as ZB "VPN Pass-Through" Functions (ie network optimization at VPN via the router) or "VPN server" (So ​​with from external to the router by means of VPN These will not help you, so fulfill other tasks!
Caution: These features help NOT to deal with one VPNProvider to connect:

IPSec pass-through

PPTP pass-through

L2TP pass-through

PPTP server

VPN server
Pay attention to the "VPN-Client "function of the router!
Um VPN-ServiceTo be able to use s, you need the special properties on the router: "PPTP Client", "Wireguard Client" or "OpenVPN Client ".
The VPN Protocols are the common language between the router and VPN-Providers
VPN- Protocols describe how the device (client) with a VPNServer communicates. The protocols are necessary for mediation and also contain the encryption algorithms. VPN-Client and VPNServers must therefore meet the same standards.
Most VPN Providers also support OpenVPN, however OpenVPN Unfortunately, nowadays problems with the expected speeds for data transmission since this protocol is very resource-intensive. Clearly, however, make OpenVPN Routers are still the largest offering and are usually very easy to use.
In the coming years, however, we will see Wireguard's triumphal march, a modern, extremely fast one VPN Protocol that has already been integrated on many devices such as Windows, Android, Linux, Apple macOS and iOS and will also be available in many routers in the future. Only very few VPN However, providers also support the use of this standard for external devices such as routers.
available VPNProtocols on routers
PPTP is a very old protocol that is mostly used today with 128 bit encryption. PPTP can be used quickly and very compatible on many devices. In terms of security, there are many prejudices against PPTP, but these are mostly only relevant in connection with use in Windows. In use with VPN PPTP is still considered safe for routers.
L2TP (IPsec) is a tried and tested protocol, unfortunately it is only rarely used and L2TP client function is on many VPN Routers available but can hardly work with VPNProviders are used (VPN-Services usually no longer support the protocol)
OpenVPN belongs to the certificate-based protocols and is used with up to 256 bit encryption strength. OpenVPN but requires a lot of resources and is therefore usually slower than other protocols.
Wireguard is a very new, innovative and above all fast protocol. Wireguard hardly needs any additional resources despite the maximum encryption strength.
Why use two routers at home?
You should consider that instead of an additional router you only need a combined DSL / LTE and VPN-Client router, then you should be aware of the restrictions:
Telephony (landline) is only possible via the Internet access / IP address of the Internet access. So it's not over VPN and possible with a different IP address. Appropriate devices must therefore be WITHOUT VPN get connected.
TV portals Internet providers such as MagentaTV, 1und1 TV etc. also use the IP address of the Internet access for authentication and cannot use either VPN be used. Appropriate devices must therefore be WITHOUT VPN get connected.
Netflix, DAZN Sky and other video platforms can often only be done without VPN use (depending on the used VPN Service). Corresponding devices should also not have VPN be used.
Additional security, because your VPNRouter and its connected devices not directly (without VPN) can be reached via the internet.
That is why it makes more sense in many variants, two routers (Internet router + one connected to it VPN-Router) because you keep the possibility to give individual devices access to the Internet WITHOUT VPN Connection.
Why are VPNRouter at different speeds?
The different hardware used but also the one used VPNProtocol play a big role in the achievable speed of a VPN-Routers. In the following article we explain how these factors are related and which router with which protocol and VPNProviders will deliver the fastest results. We therefore recommend that you take a look at this article, possibly before you decide on a router.
Typical factors:
Used VPN Protocol; Location of the VPNServer; Encryption strength; Hardware equipment of the router; etc
Speed ​​with VPN-Router (explanation)
Pay attention to the router as well VPN-Service Selection therefore on our VPN-Router test results (You can find measured values ​​in the router list).
Pay attention to the appropriate one VPN Minutes: Generally, the following VPN- logs of VPN-Services and VPN-Routers supported and must of course be compatible: PPTP, OpenVPN, Wireguard or Shadowsocks
Frequently asked questions VPNrouters
What changes do I have to make to my Internet router?
Generally if you have one VPN Router at home does not make any changes to the internet router. The VPN-Router is connected to the existing internet router via cable (in exceptional cases via wifi) and provides its own new wifi network. Devices then with the VPN-Routers can also be used VPN Use service.
Can I get my internet router through a VPN- replace router?
In principle there is also from the company ASUS VPN Routers that have DSL or LTE modems installed. These routers usually cost more. What you also have to consider is that you can only use all or none of the devices VPN-Service will be able to use. As a result, some services such as telephony or the Internet provider's TV program will then no longer be usable. That's why we always recommend one VPN-Use router in addition to the existing internet router. This means that these services remain separate and still without VPN-To be able to use providers.
How much electricity is consumed VPN Router?
VPN-Routers and generally wifi routers with a power consumption of 4 to 8 watts are not large household electricity consumers.
Can I use my Fritzbox with a VPN Use service?
AVM Fritzbox routers cannot connect directly to one VPNConnect servers that have support for VPN on the Fritzbox are proprietary and are only suitable for use between Fritzbox apps and routers.
But you can just get one VPNConnect router to the Fritzbox and use the services above. no configuration changes to the Fritzbox are necessary for this.
Can I use a Speedport router with a VPN Use service?
Speedport routers have only integrated Wireguard protocol in the latest versions. However, this is restricted and cannot be used VPN-Services are used. For Telekom Speedport routers it is therefore generally true that these are not directly related VPN-Connect servers.
Alternatively, however, all are suitable VPN Router without any additional configuration effort to be connected and used directly on a Speedport router.
Which VPN Services support Wireguard for VPNRouter already?
While many VPN Providers now also use Wireguard, so only very few have followed the standards of the protocol and are therefore not usable on normal Wireguard clients. Currently, the provider OVPN exclusively also with VPN-Use routers. In the future, however, this will surely become even more.
Can I still use all streaming platforms (Netflix, etc.)?
Many VPN Providers are blocked at home streaming platforms such as Netflix, DAZN, Amazon Prime Video, Sky, etc. The reason for this are copyright concerns, because VPN Services can also be used to circumvent geographical restrictions. But there are some VPN Services that have already responded to this and have taken appropriate measures. Services such as are recommended in this case VyprVPN to use, which have also specially prepared for German platforms.
An alternative can be to use a BYPASS function of some routers to connect the devices that are to use these platforms to the VPN Pass the tunnel and use it with normal internet access. Or you have the existing internet router WITHOUT VPN at home and can use its connection directly without VPN to be able to use this service.
Are you with one VPN Router safe from warnings?
The VPN Router itself only connects to one VPN Service forth, these are always chargeable and then reliably protect all users from research and warnings.
Therefore VPN Router in combination with a VPN Service also recommended to keep families with adolescents safe from warnings.
The following VPN Routers are recommended:
Router which the function "VPN Client " already included
Routers you through a "Operating system change" with the VPN Function can extend (OpenWRT, DD-WRT, Tomato etc) and thus the function VPNClient included.
"VPN Router boxes " (Small wi-fi router with VPN Function for connection to the existing router)
One can "Preconfigured VPNRouter " to buy in the trade
Quick Overview VPN Router with already integrated VPNclient:
Independence of our tests
Even if we link to the "manufacturer's product pages", we have no direct contact to this manufacturer. We get neither commissions nor any other remuneration and every product test was done by us carried out on own account! Each of the specified routers was bought privately by us and then tested accordingly in order to be able to offer our readers the best information about them!
VPNRouter overall overview (standard VPN-Client router without effort)
VPN-Router list
The following VPN-Routers have the functions VPN-Client PPTP, OpenVPN or wireguard and can therefore be used with a variety of VPNs are used. The routers can be connected to any existing internet modem (Fritz! Box, Speedport, A1 Hybridbox, Easybox etc ... - these devices do NOT have the necessary ones VPNClient function!), Normally no changes to these devices are necessary.
The choice of the device depends on several factors, these are mostly: Range of WLAN and Speed ​​over VPN:
Model
Details
Wi-Fi * 1
LAN
Geschwindigkeit
via PPTP
Geschwindigkeit
via openVPN
Geschwindigkeit
about Wireguard
Features
Guide price
ASUS RT-N12E
(Old model)
Details
N12E
to 70㎡
Wifi: 802.11 b / g / n single band
4x 100MBit / s LAN
to 12.000
kbit / s
-
-
VPNClient: PPTP
AiCloud 1.0
Only PPTP!
KillSwitch

€ 28

ASUS RT-N18U
Details
N18U
to 70㎡
Wifi: 802.11ac single band
4 100MBit / s LAN
to 16.000
kbit / s
to 16.000
kbit / s
-
VPNClient: PPTP, OpenVPN
KillSwitch

about € 32

not available

ASUS RT-AC51U
Details
AC51U
to 70㎡
Wifi: 802.11ac dual band
4x 100MBit / s LAN
to 27.000
kbit / s
to 12.000
kbit / s
-
VPNClient: PPTP, OpenVPN
KillSwitch

€ 40

ASUS RT-AC52U
Details
AC52U
to 70㎡
Wifi: 802.11ac dual band
4 Gigabit LAN
to 27.000
kbit / s
to 15.000
kbit / s
-
VPNClient: PPTP, OpenVPN
KillSwitch

€ 49

ASUS RT-AC53
Details
AC53U
to 80㎡
Wifi: 802.11ac dual band
4 Gigabit LAN
to 27.000
kbit / s
-
-
VPNClient: PPTP
Only PPTP!
KillSwitch

€ 50

ASUS RT-AX56U AX1800 AiMesh
Details
AX56U
to 120㎡
Wifi: AX1800
4 Gigabit LAN
MESH
to 75.000
kbit / s
to 39.000
kbit / s
-
VPNClient: PPTP, OpenVPN
AiProtection * 3
KillSwitch

about € 139

ASUS RT-AC57U V2
Details
AC57U V2
to 120㎡
Wifi: AX1800
4 Gigabit LAN
to 65.000
kbit / s
to 33.000
kbit / s
-
VPNClient: PPTP, OpenVPN
AiProtection * 3
KillSwitch

€ 60

ASUS RT-AC58U V2
Details
AC58U V2
to 100㎡
Wifi: AC1300
4 Gigabit LAN
to 69.000
kbit / s
to 35.000
kbit / s
-
VPNClient: PPTP, OpenVPN
KillSwitch

about € 110

ASUS RT-AX58U AX3000 AiMesh
Details
AX58U
to 100㎡
Wifi: AX3000
4 Gigabit LAN
MESH
to 89.000
kbit / s
to 69.000
kbit / s
-
VPNClient: PPTP, OpenVPN
AiProtection * 3
KillSwitch

€ 183

ASUS RT-AC68U
Details
AC68U
to 110㎡
Wifi: AC1900
4 Gigabit LAN
to 50.000
kbit / s
to 32.000
kbit / s
-
VPNClient: PPTP, OpenVPN
AiProtection * 3
KillSwitch, bypass (Merlin)

€ 133

ASUS RT-AC85P
Details
AC85P
to 120㎡
Wifi: AC2900
4 Gigabit LAN
to 130.000
kbit / s
to 108.000
kbit / s
-
VPNClient: PPTP, OpenVPN
KillSwitch

€ 123

ASUS RT-AC86U
Details
AC86U
to 120㎡
Wifi: AC2900
4 Gigabit LAN
to 140.000
kbit / s
to 112.000
kbit / s
-
VPNClient: PPTP, OpenVPN
AiProtection * 3
KillSwitch, bypass (Merlin)

€ 183

ASUS RT-AC87U
Details
AC87U
to 120㎡
Wifi: AC2400
4 Gigabit LAN
to 62.000
kbit / s
to 45.000
kbit / s
-
VPNClient: PPTP, OpenVPN
AiProtection * 3
KillSwitch, bypass (Merlin)

about € 200

not available

ASUS RT-AC88U
Details
AC88U
to 120㎡
Wifi: AC3100
8 Gigabit LAN
to 92.000
kbit / s
to 49.000
kbit / s
-
VPNClient: PPTP, OpenVPN
AiProtection * 3
KillSwitch, bypass (Merlin)

€ 233

ASUS RT-AX88U
AX6000 AiMESH
Details
AX88U
to 120㎡
Wifi: AX6000
8 Gigabit LAN
MESH
to 190.000
kbit / s
to 134.000
kbit / s
-
VPNClient: PPTP, OpenVPN
AiProtection * 3
KillSwitch

€ 333

ASUS RT-AX92U AX6100 AiMESH
Details
AX92U
from 120㎡ to unlimited
Wifi: AX6100
4 Gigabit LAN
MESH
to 120.000
kbit / s
to 104.000
kbit / s
-
VPNClient: PPTP, OpenVPN
AiProtection * 3
KillSwitch

around € 191

not available

ASUS RT-AC3200
Details
AC3200
to 120㎡
Wifi: AC3200
to 75.000
kbit / s
to 49.000
kbit / s
-
VPNClient: PPTP, OpenVPN
AiProtection * 3
KillSwitch, bypass (Merlin)

about € 230

not available

Gl-iNet AR750 Slate
(mobile router)
Details
AR750S
to 90㎡
Wifi: AC750
2 (3) gigabit LAN
-
to 25.000
kbit / s
to 85.000
kbit / s
VPN-Client: OpenWRT, Wireguard, Shadowsocks
KillSwitch, bypass

$ 69

GL-iNet B1300
Details
B1300
to 100㎡
Wifi: AC1300
3 Gigabit LAN
-
to 29.000
kbit / s
to 120.000
kbit / s
VPN-Client: OpenWRT, Wireguard, Shadowsocks
KillSwitch, bypass

$ 89

GL-iNet S1300
Details
S1300
to 100㎡
Wifi: AC1300
3 Gigabit LAN
-
to 35.000
kbit / s
to 140.000
kbit / s
VPN-Client: OpenWRT, Wireguard, Shadowsocks
KillSwitch, bypass

$ 159

GL-iNet Brume
Details
BRUME
no wifi
4 Gigabit LAN
-
to 89.000
kbit / s
to 195.000
kbit / s
VPN-Client: OpenWRT, Wireguard, Shadowsocks
KillSwitch, bypass

$ 129

VILFO router
Fastest router
Details
Vilfo
to 100㎡
Wifi: AC750
4 Gigabit LAN
-
to 490.000 kbit / s
-
VPN-Client: OpenVPN
KillSwitch, bypass Multiple parallel connections possible.

€ 390

Shellfire VPN
Box 4k
Details
Shellfire
Box 4k
to 40㎡
Wifi: 820.11
1 x 100MBit / s LAN
-
to 15.000
kbit / s
to 55.000
kbit / s
VPN-Client properitarian for Shellfire VPN, KillSwitch, Bypass

Box only € 40 + 1 year ShellfireVPN for € 79.95
Prices are approximate guide prices from the official web shop.
Information on the information in the table:
Wifi range depends on walls and rooms and the given values ​​are therefore only approximate values ​​to allow a comparison on the transmission / reception strength
Speed: The values ​​given are net transfer values ​​at "Download", Measured with the PPTP connection protocol and the standard test procedure (VPN Measure speed comparably - test procedure).
By that I mean that these data were measured already use the Internet as a transmission path. The values ​​given by Internet providers, eg 100.000 kbit / s, are the values ​​that are available from the Internet modem to the Internet service provider, but not yet via the Internet. These are therefore always indications of GROSS values. For example, for a given internet connection with 100.000kbit / s specified, it is a net transfer over VPN with 65.000kbit / s, hardly a relevant restriction will represent.
AiProtection offers security at company network level, including the most modern, three-point security from "Trend Micro Deep Packet Inspection" (DPI) technology for your home network - these features make the ASUS router one of the most secure home routers. AiProtection constantly monitors the security of your home network. (Explanations from ASUS)
KillSwitch is a function with which one prevents a data connection WITHOUT VPN continues to exist and can therefore continue to transmit data insecurely without being noticed.
Bypass is a function to set up redirection for individual devices or websites, so that it does not act like all other devices VPN Use tunnel. This is often used to make a single device possible WITHOUT VPN to use the internet.
General information:
Note PPTP locks.
There is the limitation of some Internet providers the usual VPN-Block "PPTP" protocol. With the Internet provider "1 & 1" in particular, you have to live with the fact that transmissions are usually blocked by "PPTP". To do this, a router must then be selected which uses the "OpenVPN"Supported. Pay attention to this when choosing a router!
Use telephony, InternetTV or video portals via the previous Internet router
If you use telephones, then they should continue to be used via your previous internet router. Many telecommunications services use the IP address for the phones for authentication. Therefore, phones that have one VPN-Service connected cannot be recognized on the telephone server. ASUS routers with a built-in VDSL or LTE modem are therefore not suitable for replacing the existing router!
Wireguard protocol
The Wireguard protocol is currently used by only a few VPN Services supported. Modified versions of the protocol are not necessarily router-compatible.
We recommend buying ASUS routers directly from ASUS, firstly it is often cheaper and there is a great service! ASUS current WEBSHOP router overview
ASUS VPN Router - Inexpensive and good.
ASUS VPN Routers can be used without exception and in addition to any existing Internet router with any Internet provider! No configuration changes are necessary. The ASUS Wifi Routers are sold in stores and are available almost worldwide.
ASUS VPN Router t many additional functions
With more than 15 different models using the ASUS ASUSWRT operating system, the provider offers the largest selection VPNClient-capable routers. This starts the bandwidth already from only 35 Euro and goes to the TOP area.
The decor of the VPNConnections to the providers can usually be synonymous over all important VPNProtocols create PPTP, L2TP / IPsec and also OpenVPN, In the setup you can configure up to 10 different servers and the connection change is with a few mouse clicks. It's one of the best thought-out solutions I know about its relative comfort VPNProviders directly on the router to use. In addition, Asus routers are also offered as VDSL or as cable routers and thus integrate themselves into almost any environment.
For home use 24h during the day and also for months at home on one VPN-Service would like to be connected, this is an ideal solution and completely independent of which internet router you are already using.
All devices WITHOUT software via the VPN router
In my example, an ordinary ASUS router is therefore also connected to the existing Internet router. This may be an additional device in your own network, but it has several advantages.
On the one hand, all functions that the previous router has provided (telephony, NAS port forwarding, etc.) are retained.
On the other hand, you can also operate two WiFi networks at home:
One with VPN (ASUS router) and one WITHOUT VPN (previous network)
This can bring advantages if you have devices that do NOT have VPN Tunnel should be guided.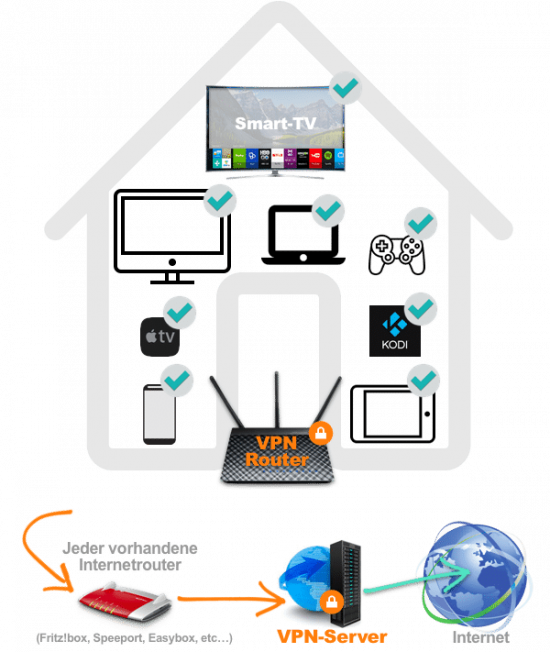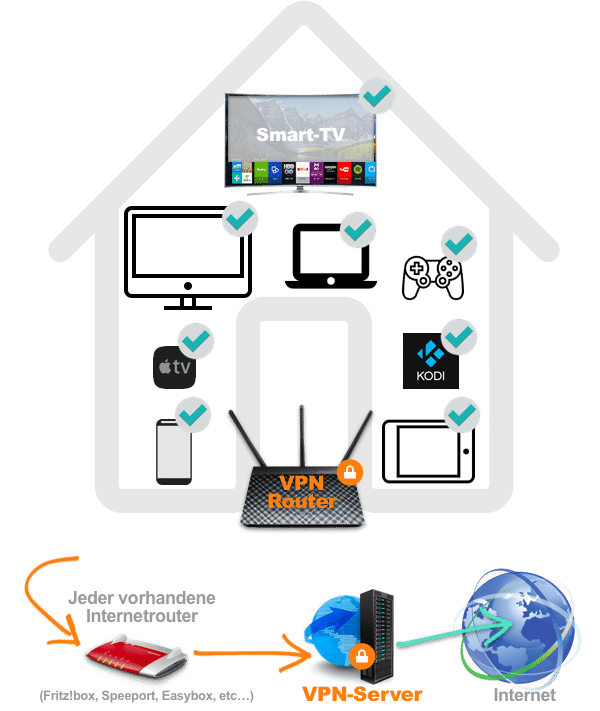 ASUS WiFi routers offer many additional security features included!
With the described ASUS WLAN routers, additional functions can also increase the security of all devices at home.
You can set malware protection and intelligent firewall rules (which device is allowed to connect to the Internet and when. Which apps are allowed to connect to the Internet. Child protection blocks inappropriate websites. Etc.).
You also have the choice of almost anyone VPN-Service to be able to use it, are therefore not limited to one or a few VPNTied provider.
The extension of the own network with an ASUS router has therefore beside the VPNFeature also has other benefits.
Setting up ASUS router at home (video)
Easy setup of the ASUS router allows use for everyone in the home network. The ASUS routers contain these functions in the standard and do not have to be adapted through special technical knowledge.
You can see the typical setup process of an ASUS router in the video shown and this takes no longer than 15min! So it's very easy and quick for everyone.
In the following video we show all steps and have suitable instructions for you for practically all router types and VPN-Services created. In case of doubt, we are at your side by chat, email or phone. Free!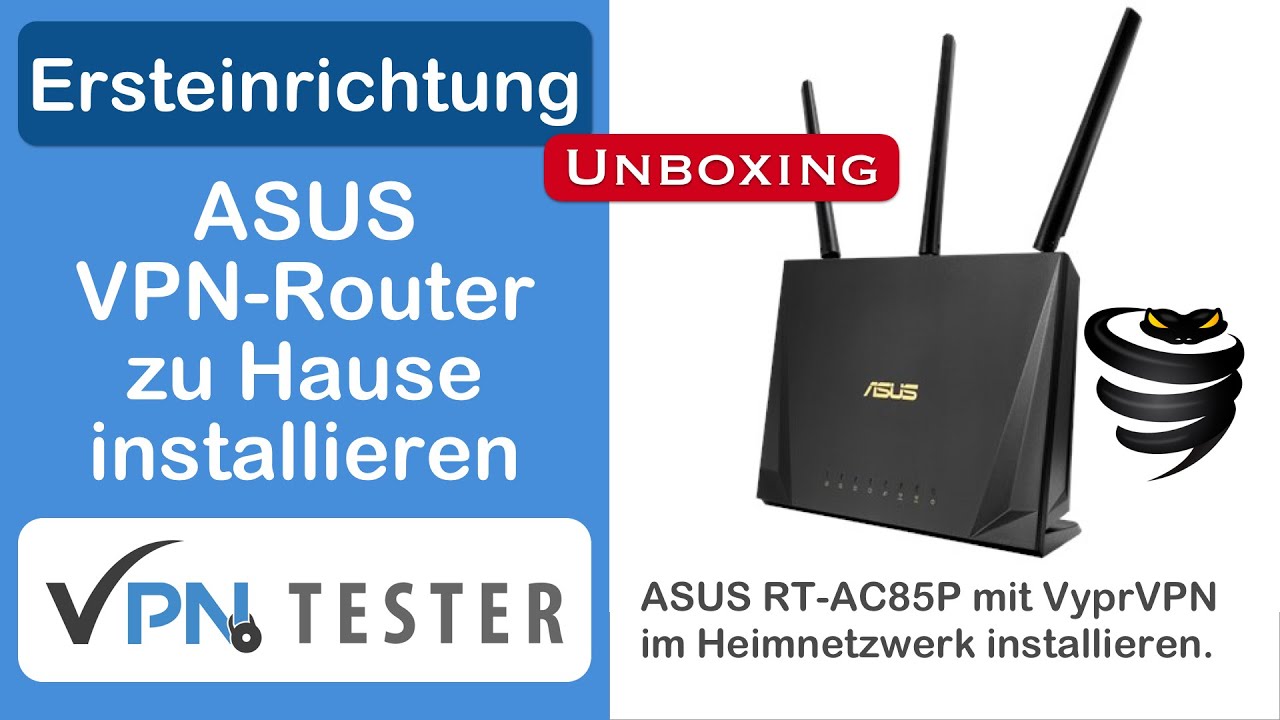 ASUS routers include additional security features
Some functions are only included depending on the model:
AiProtection: Protection against malware and child / youth protection
AiMesh: Connect several routers to cover the entire WiFi coverage
AiCloud: Share network drives directly with the router as if they were in your own cloud
The VPN-Client function But is already included in the standard for all listed and tested router models and with no additional effort with most VPN Services usable!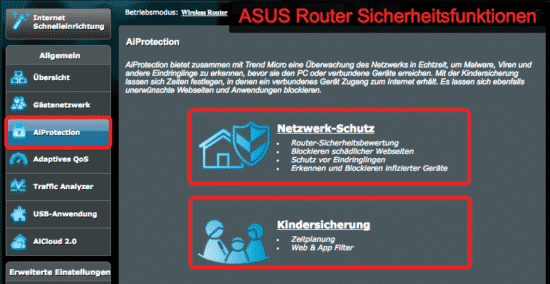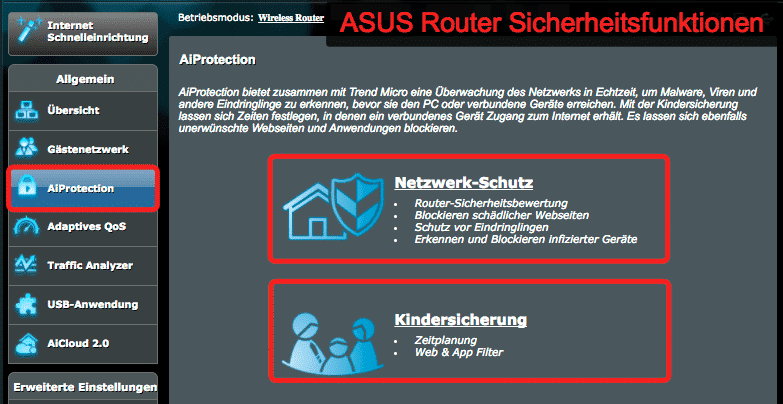 Easy to use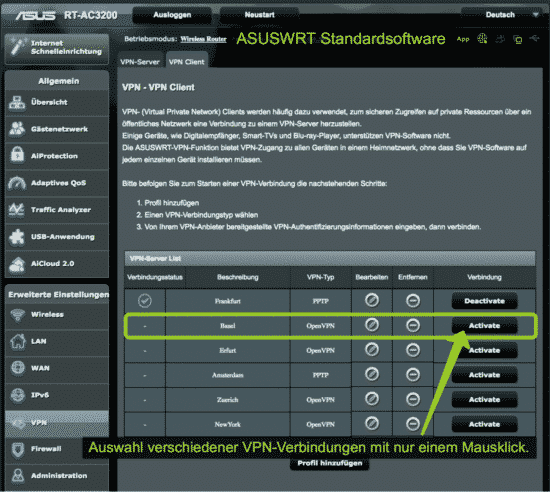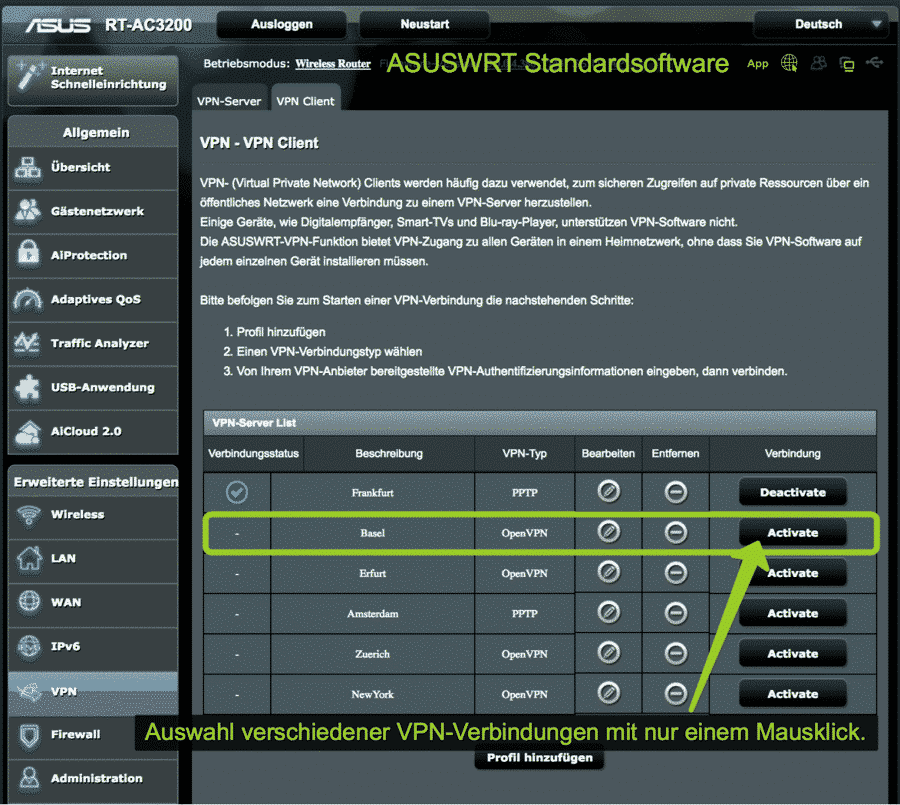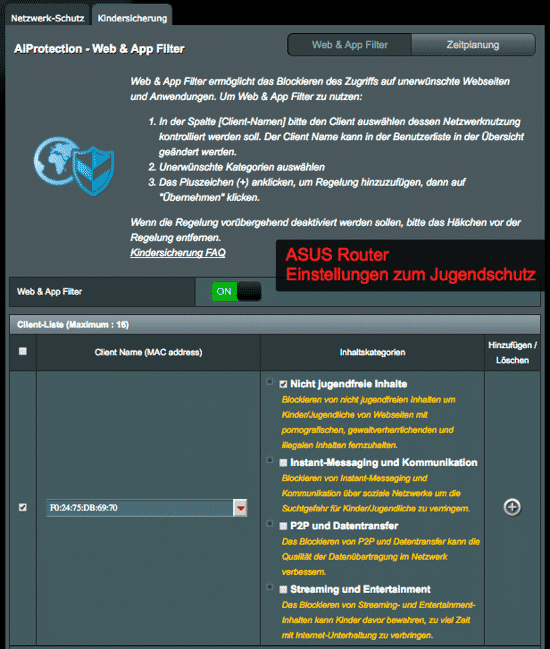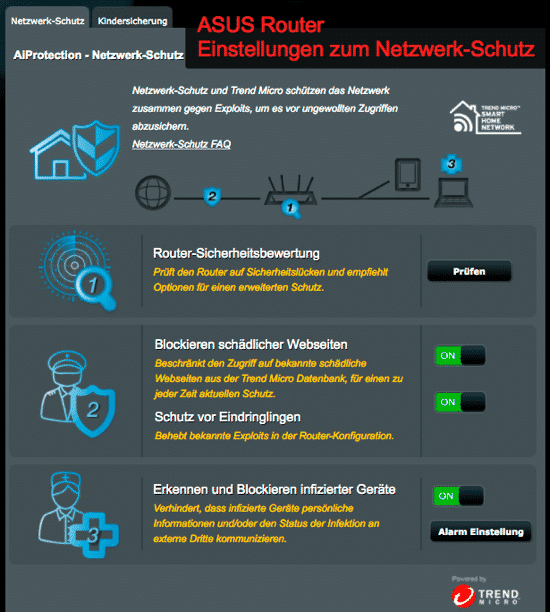 VILFO VPN Router - the fastest VPN Router on the market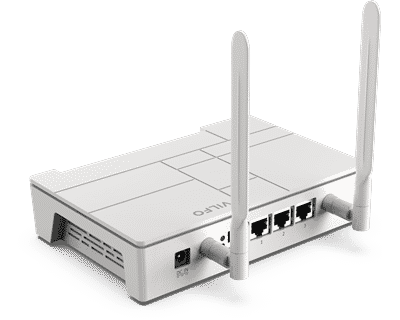 The Swedish VILFO router is a unique and only for VPN-Service Use of routers designed in the home network, which have been equipped with the functions desired by users. From the beginning, attention was paid to the best possible speed, which is also reflected in Data transfer rates beyond 400MBit / s and even up to 600MBit / s with OpenVPN shows.
VILFO routers have beneficial features for the home network:
SplitTunneling
Thus one can determine for each device whether it over one VPNTunnel or without using the internet
KillSwitch
This one can specify that devices are not without corresponding VPNTunnels can use the Internet
parallel VPN Connections
The router can work with several at the same time VPNSites are connected and devices can thus different depending on the assignment VPNUse locations
VPN-Selection - browser extension
The available browser extensions allow users to quickly change their own on one device VPNLocation, regardless of any other devices on the home network
youth protection
Through the youth protection functions, the use of individual family members can be monitored and controlled.
VPN-Services preconfigured
More than 30 different VPN-Services are already preinstalled and you only have to enter the user data to be able to choose from all available locations immediately. Commissioning a VPN-Services not done on a router.
Vilfo routers enable several functions that are not available with ASUS routers:
Individual devices from VPN Exclude use to devices that video portals should use without VPN to be used (BYPASS function)
Individual websites can be viewed from VPN Use are excluded. (BYPASS function)
There can be several connections in parallel to different locations or also VPN-Services set up in parallel and used by individual devices. (MultiVPN Function)
The end devices can choose directly via browser extensions whether this via VPN Connection and via which connected location you want to use the Internet (browser extensions)
PRICE:
With a price of over 350 Euro, the router is not cheap, but also offers what the range of functions and the speeds above the top class of VPN-Heimrouter.
VILFO introduction video & router operation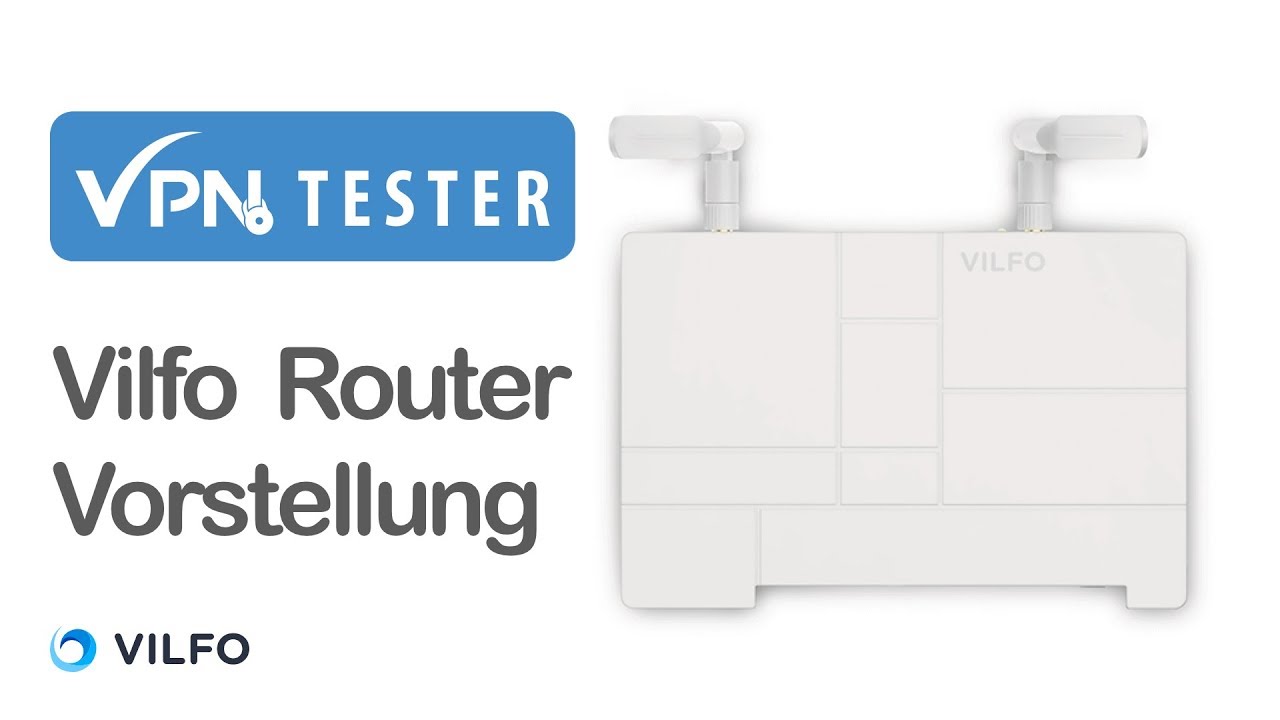 Error: View 0186f0a1vr may not exist
Setting Up the Router (Getting Started)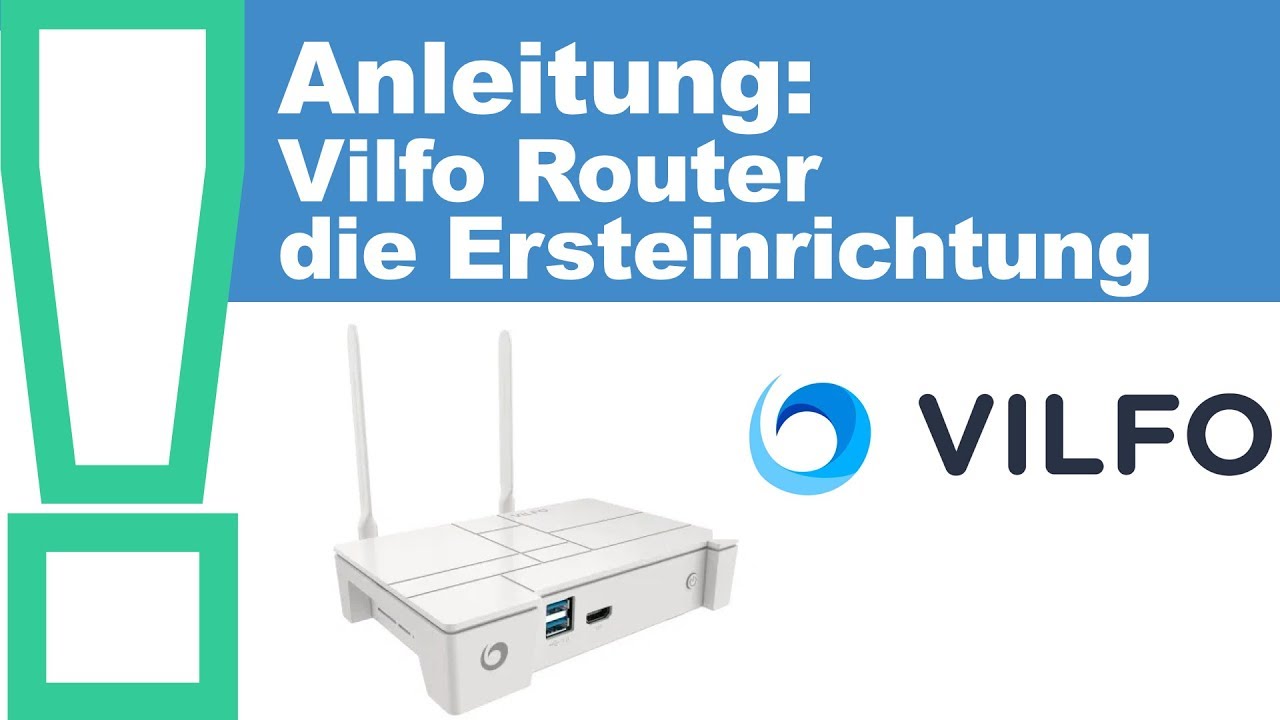 Manage connections on the Vilfo Router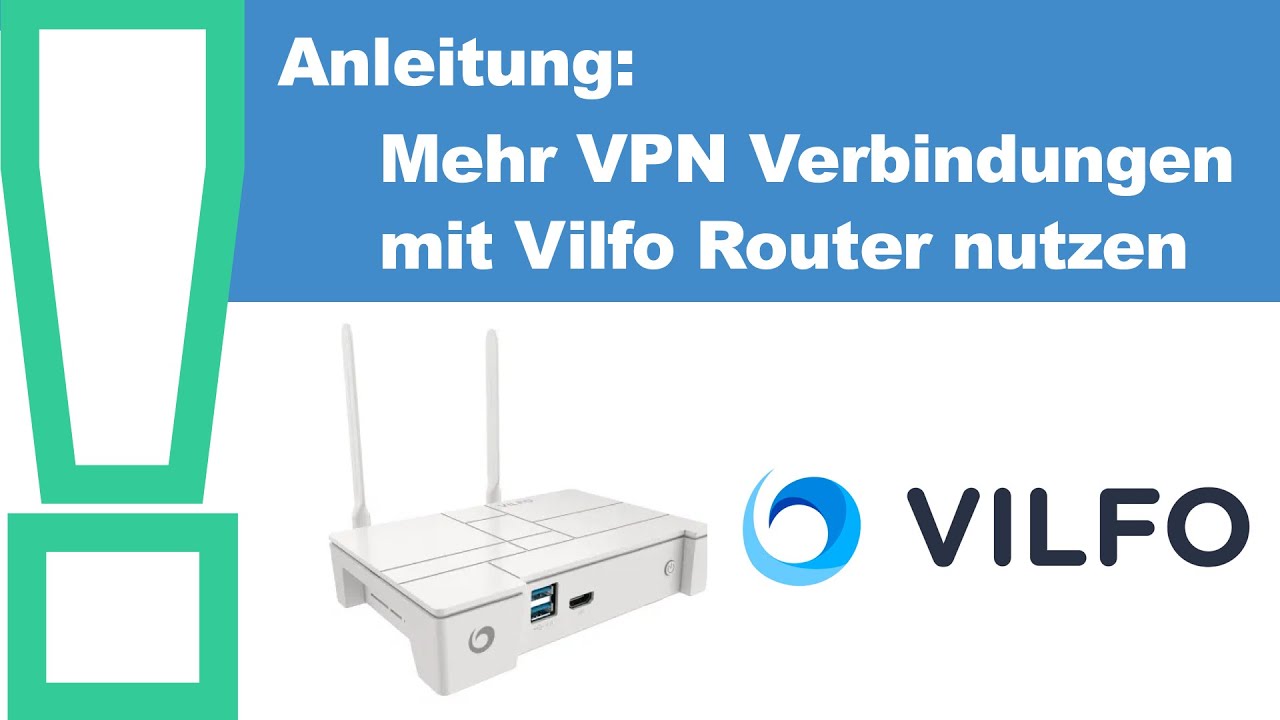 Speedtest with the VILFO router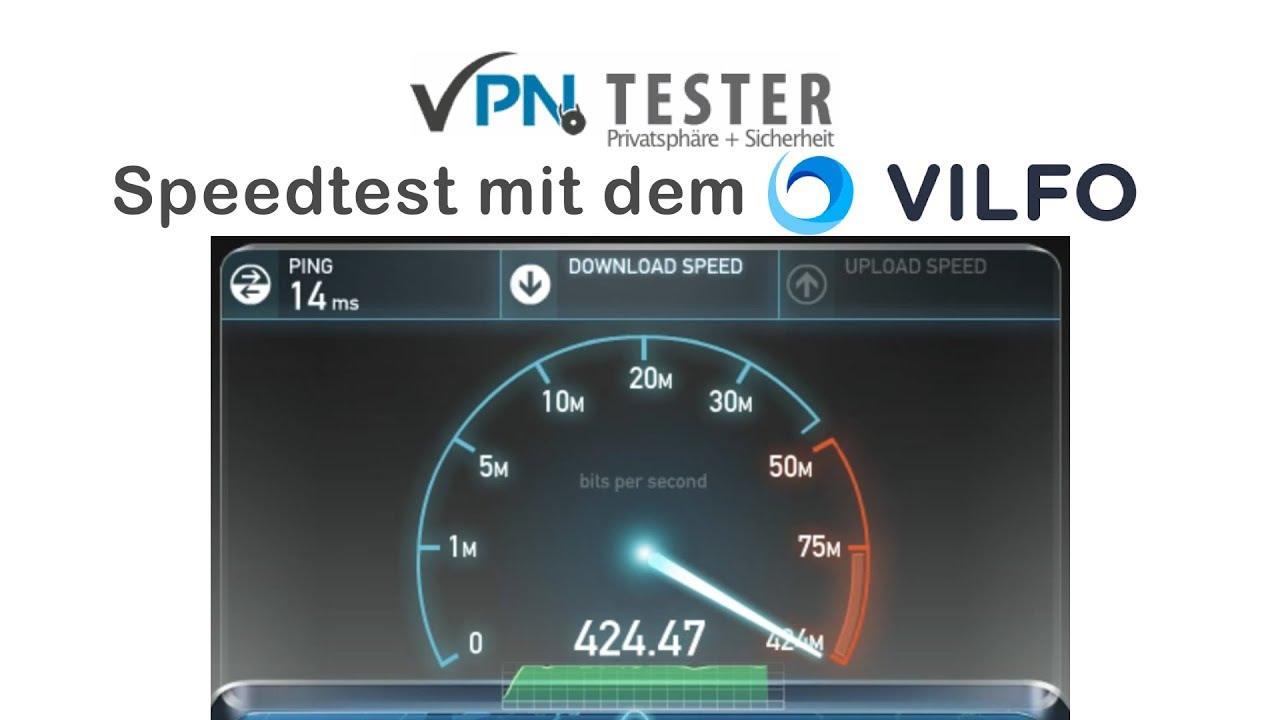 Gl.iNet Router (OpenWRT)
The small Gl.iNet VPNrouters are not only cheap but real Powerzwerge. The best part is that you have these little ones VPN-Router can even be used on the go using a normal smartphone charger.
In addition, you can use almost any existing Internet access with it. So connect directly to the hotel network via WLAN, plug in an LTE / USB stick, connect to your smartphone via USB cable or of course use any internet connection via LAN cable. These dwarfs with PPTP and also with OpenVPN connect very quickly and easily and almost everybody VPN-Service use it. link: More about Gl.iNet router
Gl-iNet routers enable several functions that are not possible with ASUS routers:
Individual devices from VPN Exclude use, for example, to use devices that video portals without VPN to use
No cable connection to the Internet router necessary, the connection can also be established and connected via WLAN
Faster, resource-saving protocols such as Wireguard or Shadowsocks can be used.
AdBlock (Tracking Blocker) can be integrated directly on the router for all devices
Gl.iNet routers are independent and with almost everyone VPN-Service usable!
Important note / advantages:
Note that the Gl-iNet routers offer additional options such as BYPASS (Devices on VPN pass) or also KillSwitch (VPN- failure interruption) and beyond do not need a cable connection to your internet router directly (Wifi connection is sufficient) This may result in a selectable location advantage for these routers in your home.
Gl.iNet VPN-Router setup - instructions with VyprVPN (Video)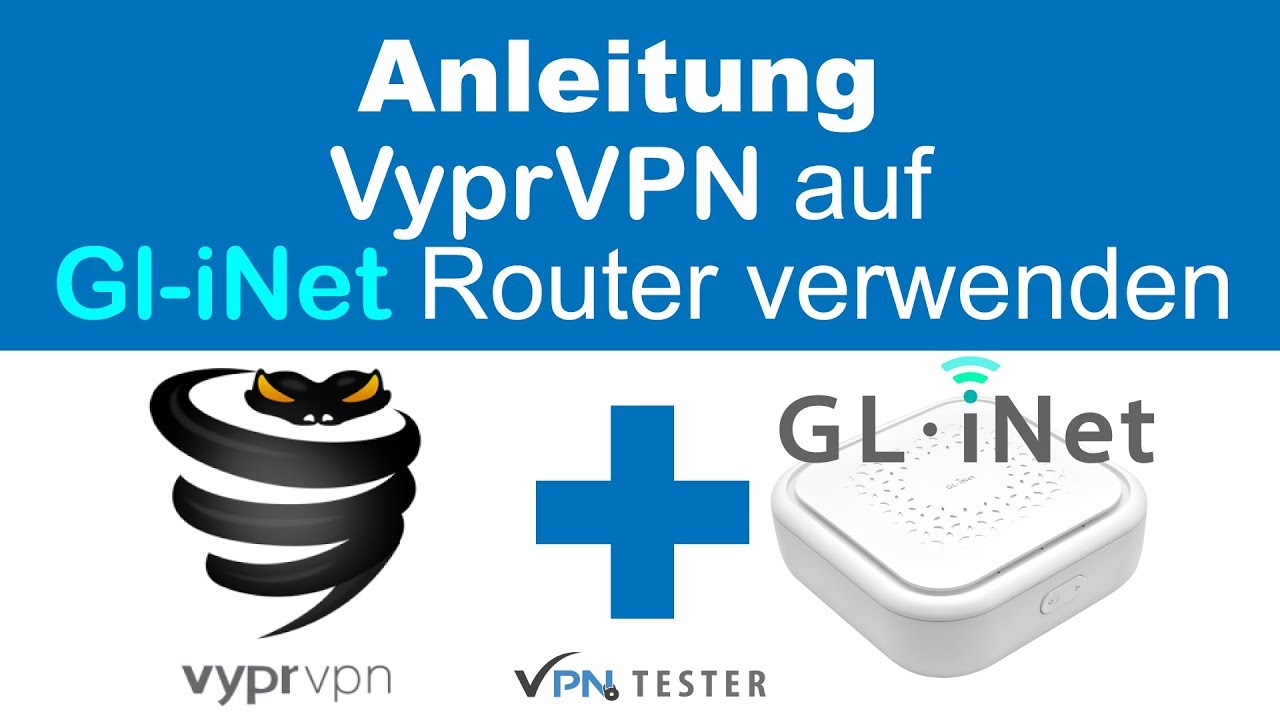 The Gl.iNet VPN Router overview:
Model
Details
Connections
WLAN * 1 & LAN
Speed.
about VPN *2
Features
Amazon
Price
Details & test

Gl.iNet
GL MT300

up to 35㎡
Wifi: 802.11ac dual band
1x 100MBit / s LAN
1x USB
up to 11.000 kBit / s
11 Mbit / s
VPNclient: PPTP, OpenVPN
Connection to the Internet:
Wifi, LAN cable, USB stick, USB smartphone tethering
Electricity: USB 5V charging port

$ 22

Details & test

Gl.iNet
GL AR750

up to 45㎡
Wifi: AC750 dual band
2x 100MBit / s LAN
1x USB
up to 16.000 kBit / s
16 Mbit / s
VPNclient: PPTP, OpenVPN
Connection to the Internet:
Wifi, LAN cable, USB stick, USB smartphone tethering
Electricity: USB 5V charging port

$ 69

Details & test

Gl.iNet
GL-Mifi 4G

up to 45㎡
Wifi: 802.11n dual band
1x 100MBit / s LAN
1x USB
up to 17.000 kBit / s
17 Mbit / s
VPNclient: PPTP, OpenVPN
Connection to the Internet:
Built-in WiFi, LAN cable, USB stick, USB smartphone tethering, 3G & 4G modem
Electricity: built-in battery (up to 36h operating time) and USB 5V charging connection

$ 109

Details & test

Gl.iNet
GL B1300

up to 90㎡
Wifi: AC1300 dual band
2x Gigabit LAN
1x USB
MESH functionality
up to 29.000 kBit / s
29 Mbit / s
VPNclient: OpenVPN, Wireguard
Connection to the Internet:
Wifi, LAN cable, USB stick, USB smartphone tethering
Electricity: Own power adapter included

$ 89
NEW: Gl.iNet home router, with Mesh WiFi and VPN Function!
The Gl.iNet GL-B1300 is the first MESH WLAN capable VPNRouter. This makes it possible to cover buildings and open spaces at 100% with WLAN, without gaps and with automatic transfer of the connection to mobile devices.

Example: video tutorial (Surfshark VPN set up)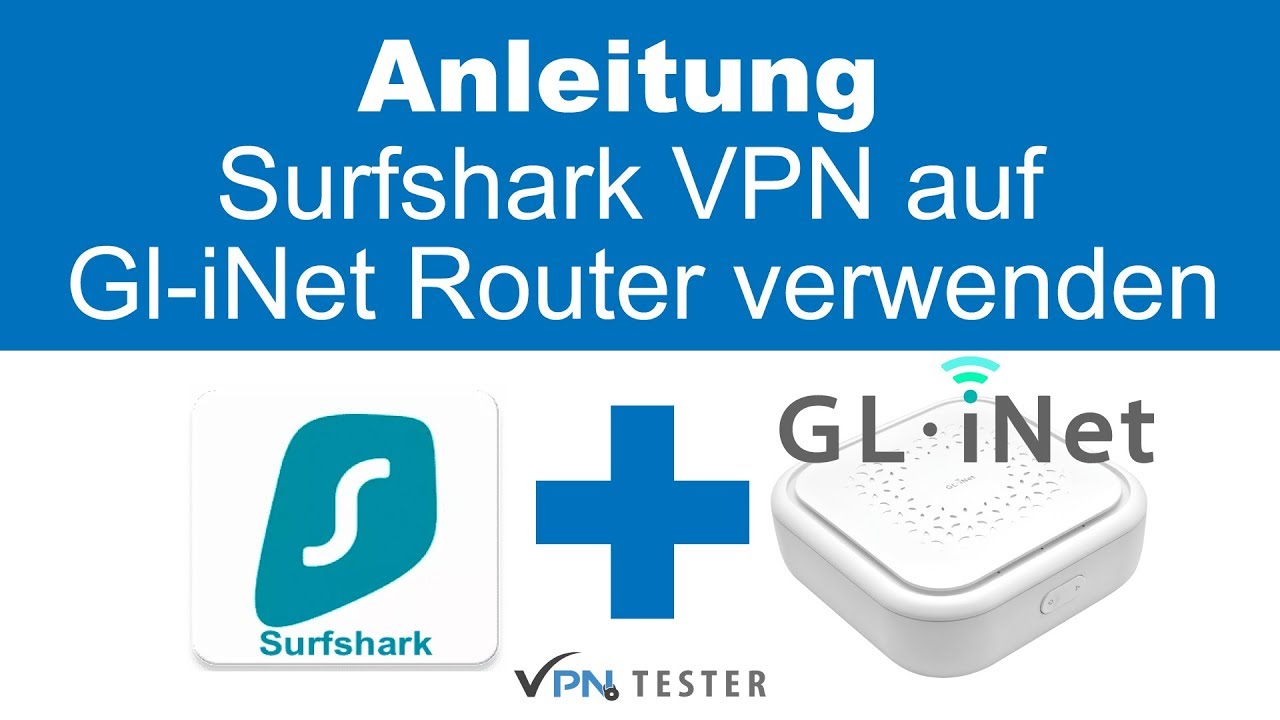 Example: video tutorial (NordVPNVPN set up)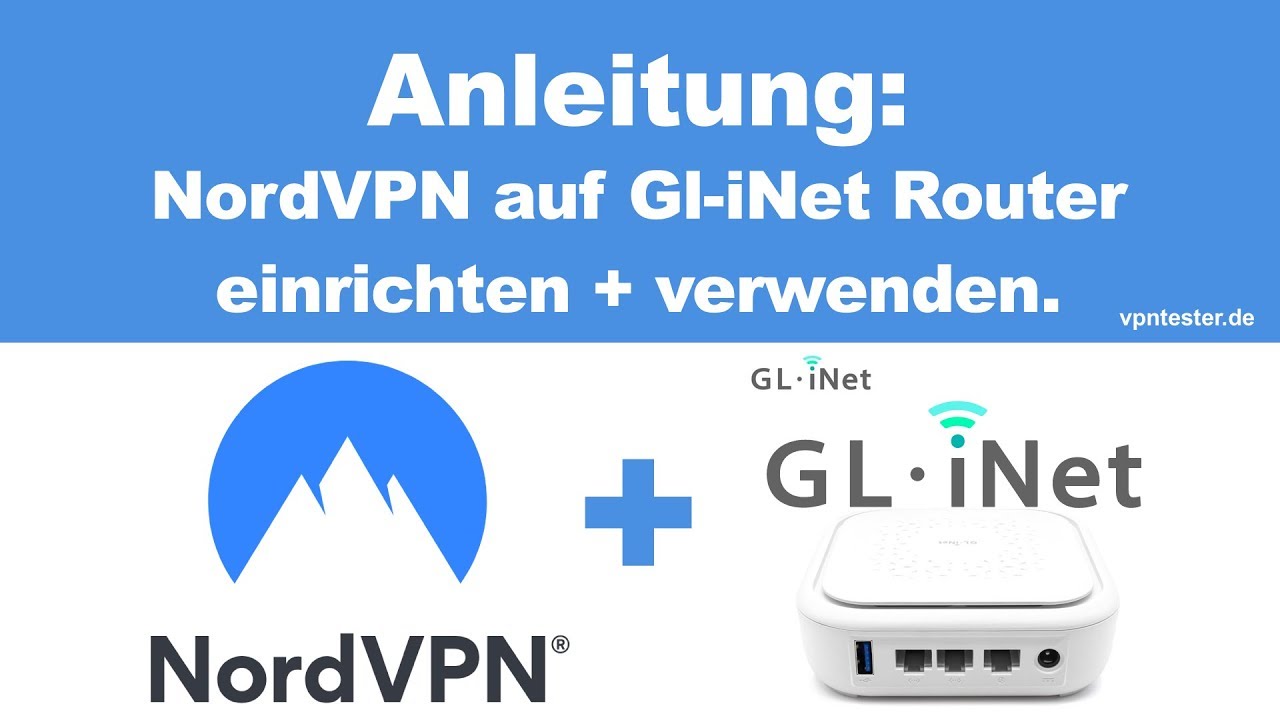 The GL-B1300 is a full WLAN router that you can use alone, or in combination with the same models can expand to a nationwide Wi-Fi network. Therefore, ideal for smaller and larger home! And for about 85 Euro per device also absolutely cheap with very impressive performances!
---
Shellfire VPN Box (WiFi router)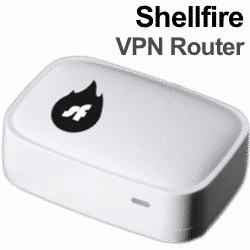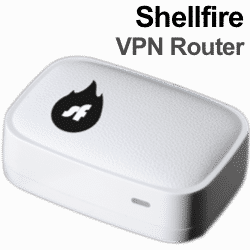 The company Shellfire VPN (from Germany) has for your own VPNService a box developed based on the OpenWRT system, which simply connected to the existing router, a full use of all available VPNServer worldwide. The WLAN range of this solution is limited, of course, but it also allows the parallel operation of the previous and a pure VPNAccess network at home.
At around € 40, the box is also more than inexpensive, but can only be used with the Shellfire VPN-Service use, which is why annual usage fees of around € 79,95 are added. The use is very easy and even for less experienced users in a few minutes in operation.
The Shellfire VPN Box is ONLY with an active one ShellfireVPN Subscription available!
The boys of Shellfire have with the little one VPNBox really created a good product. The small box is simply delivered already configured and is therefore in less than a minute in action! It's nice and easy. However, such a small box has of course only limited WiFi reception and you can only Shellfire VPN use it. But anyone looking for a simple solution is well served.
Netgear router with Tomato, OpenWRT or DD-WRT
Even though Netgear offers routers that are well suited for the use of an alternative operating system, Netgear does not offer a single router that already meets this need with the standard software. And although more than 50% of all users of alternative operating systems for routers this change because of VPNFunctionality by lead. Netgear devices are perfect for playing DD-WRT, Tomato or OpenWRT as an operating system and then get the full VPNFunctionality with it.
Since the process of "flashing" the router is reserved for IT connoisseurs or people who like to experiment, it is only accessible to a smaller group of people. Which Netgear devices can be used with these open source operating systems will follow in the further course of this article.
---
Router "flashing" with OpenSource Firmware DD-WRT, Tomato, OpenWRT etc.
For about 10 years, a community of followers of alternative router operating systems is growing. This has resulted in innumerable modifications of an original Linux-based system. The most famous and important representatives of these are today:
DD-WRT
OpenWRT
Tomato (in many different versions)
Open source operating systems for use on existing WLAN routers
Gerade DD-WRT and also Tomato Tomato by Shibby) are available in simple and small versions (under 4MB size for older systems with low storage space) as well as in VPN Versions or larger versions that also bring better graphical implementation available.
But today I would not use these operating systems without restrictions!
These are usually a standard that no longer supports the special functions of modern WLAN routers. This means that you on the one hand the VPNClient function can win, but this will not be very fast on the speed (Max. 10MB / s with VPN) and in addition other WLAN functions or additional functions of your router will no longer be supported. That's why switching to DD-WRT or Tomato means getting rid of a lot nowadays!
Disadvantages of "flashed" routers:
Firmware is the same for many WLAN routers and does not support special hardware functions in the routers.
Warranty and customer service of the manufacturer can not help anymore.
Speed ​​with VPN is partly very bad, which is due to general rather than individual hardware resources usage
Setup is complicated and error prone.
Devices with existing ones VPN-Client functions are available inexpensively, so there is no reason to "flash" a router today.
VyprVPN Extension for Tomato Router!
For the system from Tomato by Shibby there are also some extensions like the "VyprVPN Router extension ". This brings an improved graphically more appealing user interface and specialized functions for the use of the VyprVPN Services. I tested this option extensively 3 years ago and it works very well.
Compared to the use of e.g. VyprVPN on an ASUS router you also have the option of all existing ones VPNSites, ping times (response times) to be able to follow the server and also to set special rules (this device MUST with VPN, this device does NOT need VPN Connection etc). However, you should be aware that you have to "flash" a device and technical knowledge is an advantage, which is why I would recommend the solution via an ASUS router to inexperienced users. (see above)
VyprVPN Router extension / test report
The VyprVPN Extension is really great, but can only be used on "Tomato by Shibby" routers.
I consciously recommend not the firmware "Tomato" + the VyprVPN App to use on newer routers!
The reason for this is that the operating system Tomato by Shibby has not been developed for two years now and the selection of wifi routers that support this operating system is rather small. Even older routers are supported.
In addition, the newer devices have received many new functions and Tomato means that many of these functions can no longer be used. Therefore, installing Tomato on your own router only makes sense if it is not otherwise VPN would be suitable. With all newer ASUS routers, however, that is VPN-Client that you can use for VyprVPN already required on it and you therefore do not have to buy these devices through Tomato + der VyprVPN "Flash" the app with a different operating system than the original one.
---
Beware of destruction of the device
When "flashing" your own router, you should be careful, as an error can affect the service life of the device or even lead to a total failure. It is therefore advisable to think carefully about this process and, if necessary, to resort to alternatives.
Benefits of OpenSource
The advantage, however, is clearly that you can equip older routers by using one of the mentioned operating systems with new features. A very important focus of all these open source solutions is always on improving the control and also the privacy when using the routers. It's also amazing how you can make an 30 Euro Wi-Fi router quite a powerful device. Example of Linksys E2500 with VyprVPN.
Pre-configured flash VPNrouters
Because the "flashing" of a router with an open source software and the handling of VPNRouters are a real challenge for some, some online retailers have specialized in selling preconfigured routers. So you can order your favorite router with DD-WRT, OpenWRT or Tomato operating system. There are even versions that special VPN- Providers already pre-configured.
This service has its price, of course, you have to expect that routers will cost about $ 100 more than without configuration and additional shipping costs will also be charged from the USA. This is undoubtedly not the cheapest alternative, but of course very comfortable and safe.
Flashrouters - buy a preconfigured router
I do not recommend this method, as it does not bring any advantages over the version with the ASUS routers, which already include all functions in the standard scope. These are flash routers due to taxation and margins 150 Euro per device more expensive than comparable standard devices. This money is better invested in a reasonable VPN-Service!
Disadvantages of Flashrouter products:
Too expensive and hardware itself makes up only a small part of it
Long delivery times by shipping from the USA
Lack of customer service of the provider
AVM Fritzbox router with VPN
AVM Fritzbox also offers the option of one VPN-Connect to another FritzBox router! (Caution: Not to be confused with the connection to a VPN-Providers!)
Fritzbox routers only offer that Protocol "IPsec / x-auth" and in my test with it I was only able to achieve a maximum transmission speed of about 3-5 Mbit / sec. It seems that the processor built into this router is not fast enough. But the connections with it were at least stable.
Fritzbox can do a lot, but unfortunately not everything!
As popular as Fritbox routers are, they unfortunately don't have them VPN Client functions you would need at home. It is also not planned by AVM that this will be integrated in the future. AVPM continues to focus on getting the router through itself VPN To be accessible from the outside with the specially developed Fritzapps available for it. Connections to commercial VPN Services, however, would unduly stress the conditions of the existing devices and their hardware resources and create additional effort for customer service. However, AVM apparently sees no chance of generating additional income in this and therefore has no efforts to make this possible in the future.
FritzBox + ASUS VPN-Routers together are a good combination at home!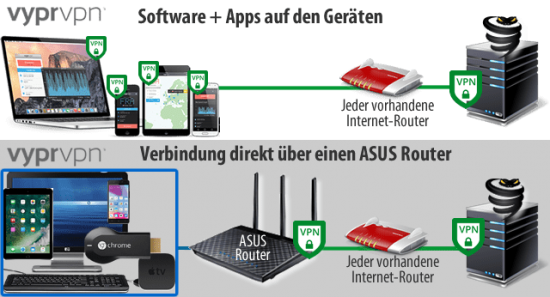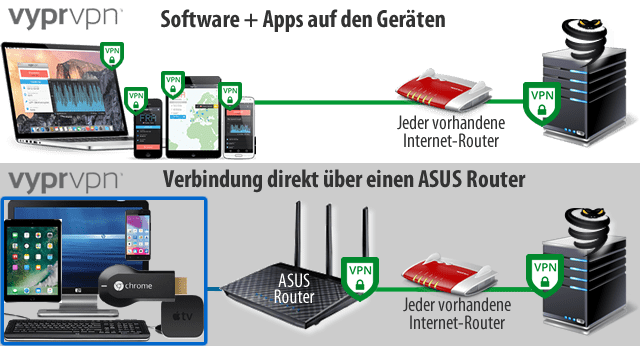 AVM Fritz! Box router
The AVM Fritzbox has been part of the home networks of many millions of households since the beginning of the 21st century and has a large fan base, especially in Germany. However, the manufacturer has little success beyond the German-speaking region and is therefore one of the smaller router niche providers internationally in the router segment. But there is also a fairly large product range for cable Internet users, LTE, VDSL and even fiber optic Internet providers, and the integration of telephony and other services has also been implemented excellently. As VPN Routers to secure the home network would be a useful addition, but AVM has already spoken out against this integration in its own products several times.
fritzbox VPN compatibility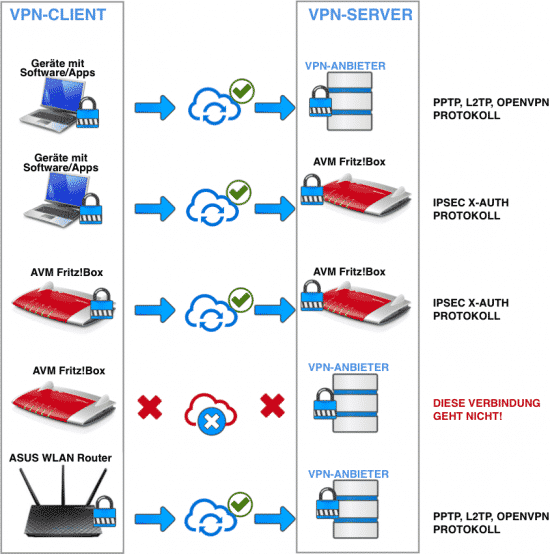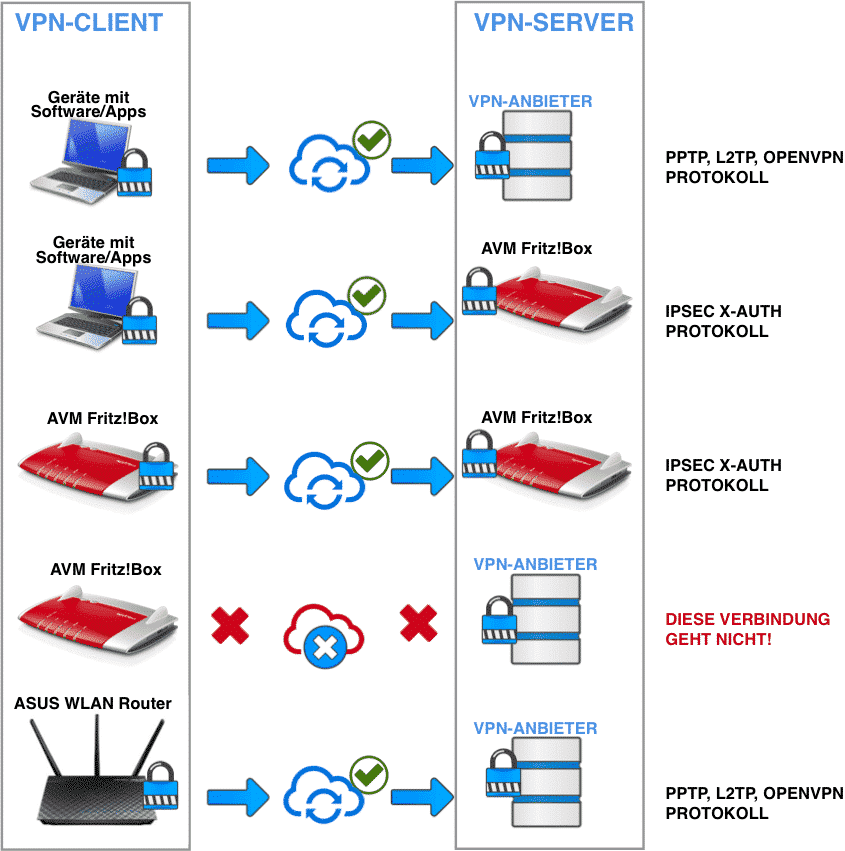 "Fritz! Box devices can be connected to other Fritz! Boxes VPN connect. Not but NOT too VPN-Services! Please do not confuse them.
I admit that it is a bit confusing, why a Fritz! BBox to other Fritz! Box devices per VPNClient can connect, but not too VPNOr providers. But it is just like that. The previously recommended version with an ASUS router directly to a Fritzbox is thus the recommended solution.
---
VPN Services for routers
Not everyone VPN-Service that you can use on a router at home also offers the desired stability and safety. That's why I'm up a special page, compared and give the most important services Recommendations for it.
Important decision criteria for VPN Providers:
When choosing the appropriate one VPN Services should first be based on the existing protocol of the VPN Pay attention to router (PPTP, OpenVPN, Wireguard).
In addition, the "LoadBalancing" function can enable the router to remain connected to the service quickly and without interruption for years.
If you also want to use streaming services such as Netflix, Amazon Prime Video, DAZN, Sky or others via the router, you should also pay attention to the compatibility with it.
All those listed are safe from warnings VPN-Services to 100%
I also recommend reading our reviews and maybe getting an impression yourself.
The best services for VPNrouters
VyprVPN

Fast, secure, perfect streaming

Swiss VPN Service that is very suitable for routers.

LoadBalancing (failure-free architecture)
All

Hardware & infrastructure in-house

(Very fast)
Lots of apps & applications
Reliable protection against research and monitoring

Protocols: PPTP, OpenVPN (UDP)

streaming

Netflix. Prime Video. DAZN. Sky

Test 30 days without risk

Cost: from 30 euros per year

---

Surfshark

Inexpensive + innovative apps

innovative VPN Service that is very suitable for routers.

LoadBalancing (failure-free architecture)
Likewise,

Shadow Socks

Protocol available
Reliable protection against research and monitoring

Protocols: OpenVPN (TCP + UDP), Shadowsocks

streaming

Only Netflix can be used

Test 30 days without risk

Costs: from approx. 24 euros per year

---

OVPN

Super fast + safe

fastest VPN Service from our tests, is the developer of the "Vilfo Router". But it also works on everyone else VPN Router flawless!

Likewise,

Wireguard

Protocol available
Reliable protection against research and monitoring

Protocols: OpenVPN (TCP + UDP), Wireguard (standard)

streaming

Netflix. Prime Video. DAZN. Sky

Test 14 days without risk

Costs: from approx. 50 euros per year

---

ZorroVPN

Safe with cascades

Maximum anonymity with VPNCascades also on the router:

LoadBalancing (failure-free architecture)

VPN cascades

create manually and use on the router
Reliable protection against research and monitoring

Protocols: OpenVPN (TCP + UDP)

streaming

Only Netflix can be used

Test 14 days without risk

Costs: from approx. 90 euros per year

---

ExpressVPN

Good for streaming but expensive!

Well-known but relatively expensive provider, well suited for routers:

No load balancing

(Failure-free architecture)
Fast servers, stable connections, lots of apps and applications
Reliable protection against research and monitoring

Protocols: PPTP, OpenVPN (TCP + UDP)

streaming

Netflix. Prime Video. DAZN. Sky

Test 30 days without risk

Cost: from 95 euros per year

---

NordVPN

Well-known provider, but not perfect for routers

Very well-known service with many customers, usable on the router:

No load balancing

(Failure-free architecture)
Many servers worldwide to choose from, good apps for many devices
Reliable protection against research and monitoring

Protocols: OpenVPN (TCP + UDP)

streaming

Only Netflix can be used

Test 30 days without risk

Cost: from 36 euros per year

---
Streaming with the VPNrouters
Anyone at home VPNRouter is used, which of course would like to be able to receive all content from the Internet as usual. Of course, this also includes Netflix, DAZN, Sky, Amazon Prime Video and many other streaming offers. This is exactly where to join VPN Provider copyright issues. As absurd as it may sound at first glance, it is there VPN Services are likely to be used to circumvent geographic blocks due to copyright VPN Services locked out in many offers.
This fact was, of course, some VPN Services also taken as an opportunity to take technical measures, but only a few providers have implemented this for the German market. Most providers keep devices the most VPN Router are connected and directly through the VPN Want to use service streaming blocked.
There are three approaches as a solution:
Devices that use streaming should connect directly to the Internet router and therefore not via the VPN- Let providers use the Internet.
VPN-Router with BYPASS function can be used for individual devices or websites VPN-Except usage.
You use one VPN Providers who use various techniques to bypass these locks.
Regarding solution 3, the following should also be noted:
The VPN- Providers typically use their own SmartDNS service to circumvent the geographic blocks. That means that you have this DNS in the VPNRouter must be used and the connected devices must use these DNS servers. Now, however, some streaming apps have entered their own DNS services on various devices such as SmartTVs, with which these applications, for example. Netflix app, then the provider's SmartDNS will not use it. Therefore, this method is not successful on all devices. In the following list you can see which devices typically circumvent the geographical locks via DNS /VPN will work and for which it will not work:
Devices / platforms with VPNRouter + VPN- Providers can be used:
Win / macOS
Browser

AppleTV
App

iPhone / iPad
App

Android devices
App

SmartTV
App

FireTV
App

Amazon Prime Video (DE)

OK

No

OK

OK

No

No

Netflix

OK

No

OK

OK

No

No

DAZN (EN)

OK

No

OK

OK

No

No

Sky

OK

No

OK

OK

No

OK

ARD, ZDF, BR (DE)

OK

OK

OK

OK

OK

OK

ORF (AT)

OK

OK

OK

OK

OK

OK

SRF (CH)

OK

OK

OK

OK

OK

OK

zattoo (CH)

OK

OK

OK

OK

OK

OK
Tip for streaming on TV devices:
If your SmartTV is blocked, you can alternatively simply use an Android TV box and thus use some more streaming portals with it.
---
Router with BYPASS function
Some VPN Routers allow bypassing the VPN Connection for connected devices. This function is often referred to as "bypass".
ASUS routers this requires a change in the operating system, which is not possible with all models. (asuswrt-merlin.de)
Gl-iNet router have already integrated this function in the standard and this makes the process very easy
Vilfo router have also already integrated this function.
---
Which one VPN- Provider can bypass geographic blocks?