WebRTC is a free and open project that allows browsers to communicate and synchronize mobile applications in real time (RTC-real-time-communication).
Many browsers now rely on this technology and also many website providers follow and also use these possibilities.

Which is on the one hand a very comfortable thing when using many websites (you usually do not always have to "save extra", but it is almost InTime so in real time between the browser and the server communicates, but has one in use big chops, because as in the article by Daniel Roesler's GitHub page, in June 2015 was described, on requests sent to a STUNN server, directly on VPN Communicate tunnels and find the real IP address of the user!
So if you have one now VPN Provider uses, then it may be that by using the above-mentioned browser this can lead to a problem with your anonymity.
Notice:

Perfect-Privacy has its own Online test developed, which gives you information about it immediately.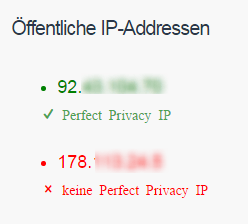 LIVE Demo Test
This demo makes hidden requests to STUN Server that logs these queries. These queries are not shown in Developer consoles and can not be blocked by browser plugins like Adblock, Ghostery, etc.
Created on:02/03/2016