As part of a security check, Microsoft found that approximately 44 million Windows accounts use insecure passwords. Of course, this poses a major security risk when it comes to hacking and the like. A password manager like the new NorthVPN NordPass, puts you back on the safe side.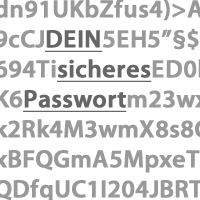 Secure passwords protect personal documents
Photos, secret documents, personal data etc. There are a lot of things on your laptop or other devices that only concern you. These are protected in advance by a password. But if this is bad, your security risk is enormous. This also applies to 4 million Microsoft users who, according to Microsoft, chose inadequate passwords to protect their accounts.
Lack of security
However, this discovery by Microsoft is not very surprising. Because in general, users do not necessarily handle their passwords efficiently. At the top of the hit list of password errors are multiple-use passwords. Say if you use the same password for your Facebook account, Amazon, Instagram etc. "Weak" passwords are also popular - such as birthdays, children's names, etc. You can find out how to choose a secure password here.
44 million passwords unsafe!
How did Microsoft check the passwords? The group has 3 billion data sets collected from data leaks. He has compared these with user accounts. The result is 44 million matches. This means that these 44 million passwords have already been leaked, are circulating on the Internet and are therefore no longer secure!
What do you have to do as a victim?
Microsoft directly informed those users who were affected by the leak. You have to use a new password to play it safe again. It is of course also advisable to delete the leaked password absolutely everywhere. Should it still be in use somewhere. Microsoft also gives the tip to use two-factor authentication. This means that you not only have to enter your password when logging in, but also, for example, a code that you receive on your mobile phone. Highly recommended - for each of your accounts!
You are not affected by the Microsoft Leak, but would like to know whether your passwords have been leaked before? With HaveIBeenPwned it works very easily!
Keep track of things with password manager
If you want to keep an overview of the password chaos and want to use really good passwords: Use a password manager! northVPN has launched a new tool, for example.
Created on:12/28/2019