(Warsaw, 23.Years 2016) Thousands of Poles have once again taken to the streets in recent days to protest. The reason is the laws envisaged by the Polish government to allow extensive surveillance of all citizens. This amendment is in line with the US demands of June 2014 to legalize the surveillance activities of the NSA also in European countries. This is followed, as in Austria in the new "State Protection Law", the disclosure to foreign intelligence agencies or the exchange of data with them is explicitly allowed. The whole thing is to lead away from a single case monitoring through judicial control to an automated way.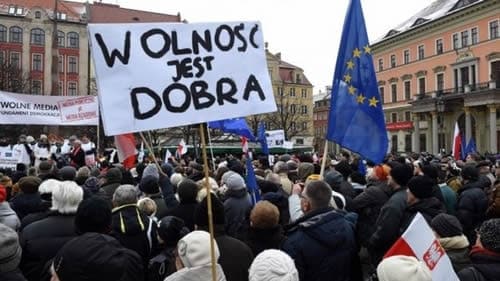 Thousands of Poles have again taken to the streets in many cities, fearing freedom of expression and organizing opportunities for protests. In the planned law, over which the Western media behave conspicuously calmly, as in other western states partially implemented foreign intelligence activities are addressed, thereby legalizing their activities under the guise of terror cooperation led by the United States. That there are of course no control mechanisms is clear!
Most EU countries have committed themselves in the middle of 2014 to the united fight against terror under the leadership of the USA. One of the main demands at that time was to transfer the activities of US intelligence agencies to the European Union. Legalize states!
The EU Commission allegedly examines the extent to which the planned new legislation is compatible with European standards. This is now trying to blame the new Conservative government, this bill was already 2013 prepared by the then Prime Minister Donald Tusk and to date almost 1: 1 has remained unchanged. This information is widely known and therefore also a further indication of the real intentions of the EU Commission and also the local politicians in the EU states.
Our privacy is in danger
The demonstrators shouted "democracy" and waved banners against the planned legislative changes for monitoring. The measures would increase government access to digital data and allow more police surveillance.
"We want our democracy and freedom to be preserved," one of the organizers said.
"Our privacy, our intimacy is threatened, we should be monitored even in our homes online" Mateusz Kijowski, head of the Committee for the Defense of Democracy, said to the demonstrators. On a banner in Warsaw was read: "They are to hear, not to listen"
The protesters (about 10.000) in Warsaw marched to the presidential palace
"Europe, we apologize for it", these posters were also seen in Warsaw. Another character, said "Happy New Year 1984," an obvious reference to the authoritarian state in George Orwell's novel 1984. The crowd gathered in front of Prime Minister Beata Szydlo's office in front of President Andrzej Duda's Palace.
What the crowd did not know: The EU will not help you, it also plans to legalize the activities of US intelligence agencies for the fight against terror!
BBC: Poland surveillance law plan angers protesters
Created on:02/05/2016