Bad headlines and no end in sight: Facebook is currently shaken by the worst scandal in its entire history and loses almost every second of billions of its stock value. Allegedly, the company has unauthorized user data collected for political purposes. A very clear no-go. Now, the whistleblower who set the ball rolling, but one more thing has set the IT portal "Techcrunch": According to Chris Wylie, a former employee of Cambridge Analytica, the number of affected users could be much higher than that of The media communicated 50 millions.
The whole data protection misery started with the Facebook app Thisismydigitallife, which downloaded about 270.000 users and should also have brought the data of friends in the focus. This data then reached Cambridge Analytica. By the possibility of such programs, just to process data from friends, it came to the already unbelievable number of rumored 50 millions affected users.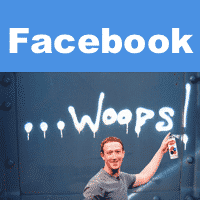 50 million provable - but the reality looks different, according to Whistleblower
That was before whistleblower Chris Wylie spoke up again. He worked for Cambridge Analytica for two years, was there from the start and got along quite a bit. Above all, he realizes the model for psychological data analysis in order to be able to create exact profiles of users. Allegedly, Donald Trump was also in favor of casting votes in his 2016 campaign ... But why does Wylie rate the affected users even higher? He told a British parliamentary committee this as follows: "For the 50 millions, there are documents that the media can refer to - this figure is reasonably secure for the media. But in my opinion and my memories, these 50 millions are set too low. "
Data misused for political purposes?
You think it can not get any worse? Far from it: Allegedly, the data analysis specialist Palantir should have had access to the data. First, according to the whistleblower, only small data sets of the app were launched to see if they could be linked to voter register information. When Cambridge Analytica's success proved it, 2014 10.000 users became users in May to test the speed of data collection via the app. The developer of the app, Cambridge University professor Alexsandr Kogan, then received significantly larger orders in the summer 2014 - and the scandal took its course.
In the course of these extensive activities, according to Wylie, Palantir was also involved, even supporting the development of models. Completely without a contract ... However, this has never happened then, so at least the official statement of Palantir to the "New York Times": It was considered a collaboration, but then rejected. The managers of the company did not want to be in the context of a choice.
To what extent is the EU, are we, affected?
Most of the unbelievable story took place, or so it sounds like, in the United States. But what does the data scandal actually mean for the EU and our very personal privacy? Because who is not represented on Facebook and therefore a possible victim? Mark Zuckerberg announced that an investigation is underway by various regulatory authorities to clarify how many users from each country are affected. From this it should have emerged that "only" one percent of the users were from the EU, i.e. 500.000 users - when one assumes the "official" number of 50 million. In reality, or according to the latest information from whistleblower Whylie, these affected EU citizens could of course be far more ... But Facebook has announced that it will break down everything very precisely and nationally: the Downloadthe app as well as their friends who might be affected by their privacy settings as well.
More from Facebook, Mark Zuckerberg is soon personally betrayed: After he has knocked out the charge of the British Parliament, but he has now but a CNN interview approved, which, according to Bloomberg, probably on 12. April should take place. We are very excited and keep you up to date!
Created on:04/03/2018