The first information about the new agreement gives you a glimpse of privacy! The new transatlantic data exchange agreement is here.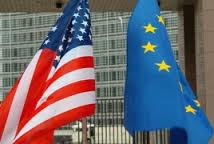 The EU Commission announced this on Twitter - which perfectly illustrates the crux of the matter. After all, the services of major American services such as Twitter, Facebook or Google are elementary components of the Internet, for which there is no European alternative. Every time a European logs in to such a service, data packets flow into the US - and into the surveillance networks of the local intelligence services. Passive EU Commission NSA whistleblower Edward Snowden has impressively demonstrated that the US authorities, without regard for diplomatic relations or even ethical commandments, collect mass data from citizens of allied communities. So did the European Court of Justice (ECJ), which overturned the "Safe Harbor" agreement to exchange commercial data. Thanks to Europeans the Austrian data protector Max Schrems, who tirelessly tried the justice (and now probably must continue to fight).
By itself, the EU Commission has done nothing.
EU Citizens Still "Naked" Now the Commission has agreed with US officials on a new Safe Harbor with the PR-optimized title "EU-US Privacy Shield"Was provided. "It's like the fairy tale 'The Emperor's New Clothes'," commented the data protection organization Edri on the deal: The EU is probably still naked as far as the privacy of its citizens is concerned. Although the details of the agreement are not yet known, EU commissioners Věra Jourová and Andrus Ansip outlined the agreement - raising the alarm for privacy advocates. US intelligence chief has even lied to the Senate For they had nothing better to offer than a "US Ombudsman for EU citizens" and "Letters" to be signed by high-ranking representatives of US policy and intelligence circles.
A wish list to the Christian child of protection, who can not replace a strict, meticulously formulated agreement under European supervision. US intelligence coordinator James Clapper even lied to the US Senate under oath when it came to monitoring its own citizens. After the Snowden revelations he gave as a motive "national security". That's what EU representatives should be aware of when talking about "mutual understanding".
Economic interests win
But in the end it is similar to the European data protection law or the abolished net neutrality: superficial economic interests are more important than fundamental rights. At the end of January, the Federal Association of German Industry warned that a break in the data exchange - which would have been the consequence of a lack of agreement - would have "unforeseeable consequences for thousands of companies". But the opposite would have been the case: since all companies would then have to save their data in Europe, it would have come to a boom in the cloud industry. But the EU Commission prefers to continue as before - at least until it reminds the ECJ of the fundamental rights.
Links: Max Schrems initiative
(Fabian Schmid, 2.2.2016) - derstandard.at/2000030263338/EU-US-Privacy-Shield-Wunschbrief-ans-Datenschutzchristkind
Created on:02/03/2016