CyberGhost VPN, the Romanian provider has a free tariff on offer, which can be used permanently for Windows, Mac OSX and Android.
The CyberGhost VPN Free tariff also includes:
Unlimited data volume
256-bit AES encryption
The limitation to the premium tariffs only results in the fact that only a smaller number of servers are available, these are usually also slower. And there are no security features. However, as usual, you can bypass Internet locks and also use the Internet anonymously with an assigned IP address from another country.
Update: CyberGhost has discontinued the offer of free use meanwhile. So you can not use the service for free.
CyberGhost VPN - Free is easy to install:
CyberGhost for Windows, Mac or Android downloaden
Install
benefits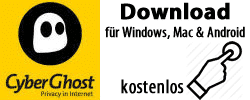 No personal data is requested and no payment method is selected. You will also receive no promotional emails or other submissions by the use.
The restrictions are disruptive for file shareers or if you want to access content in countries that have not been activated. But not if you want to connect to websites or Internet services. In Turkey there is often access to Whatsapp, YouTube, Facebook. Twitter or even blocked to e-mail services, which is suitable CyberGhost VPN Free rate really great to get around these blockages.
I also tested and described the service extensively. "CyberGhost VPN Review"And of course, there are some advantages to choosing a premium fare, but the VPNProviders to test or even in the limited scope to use permanently, the offer is really excellent.
Created on:02/28/2016