Many readers want one VPNProvider that does not save log files. This is important in some cases, if you want to make sure that even if servers are confiscated or even authorities VPN force them to disclose logs (log files) about the use of their own services and thus the identity and activities of the users.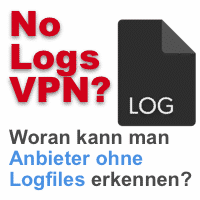 The websites of VPNUnfortunately, in the vast majority of cases, they provide incorrect or misleading information about this. But you are not dependent on the providers to believe this. In the following I show you how you reliable VPNs, the log files (logs) use and store and providers who actually renounce it.
Logfiles make sense in many cases.
In many cases, however, logfiles are used to enable tariff models, for example with the restriction to 3 devices at the same time, or even to their own servers (Das VPN Network) better to maintain and manage. Without log files that log the use of the server, many things are not so easy to implement. Therefore, the vast majority of all providers themselves use "log files" for these purposes.
Which types of (VPN) Log files are there?
The most common form consists of central protocols, which stores the registration of users, their useful life and data consumption. Only in very rare cases are also additionally called websites or activities logged, this happens most likely at VPN-Services which, for example, use proxy services, for example to apply malware or other filters to the data. The reason why traditional providers do not store activities is because these data would quickly take very large dimensions, so that they consume storage space and resources and use them to run the business VPNServers are actually not relevant.
Real identity with logfiles
Even with the simplest form, the real IP addresses of the users as well as the externally used IP address of the VPNLocation saved. This can also be quite say which user has used which IP address at what time. The fact that these records are linked with the eigeneltichen name or payment information, for example, is not necessary. The real IP address, that is, which the user has received through his Internet provider, is quite enough to convict a user. In addition, the authorities usually only know exactly what was done anyway when searching for information, all that is missing is the identity of the IP address used.
What does it depend on, whether one VPN the data to authorities passes?
The mistaken belief that the company location of the VPNs has an impact on the transmission of log files to authorities has widespread. As a rule, but not anyway VPNs himself questioned by the authorities, but the owners of IP addresses. Similar to the license plate number, the registered user of the IP address is responsible for what is done with it. Sure, this has depending on VPNLocation, ie in different countries, also different legal framework conditions for it.
Therefore, get a server landlord (hoster) on the one VPN IP address is a request, then it has two possibilities in general:
1) He informs the authority of the name of his own customer (VPNProvider) of this IP address with. Which in many cases, however, is not provided for by law, ie the server operator continues to be held liable in any way.
2) It logs the users of the server itself. He has the opportunity, even without direct access to VPNServer to log all IN and OUT links (IP addresses). This can then at least tell which user (real IP addresses) at a given time and the VPNServers have used.
This second case is mostly common in copyright matters or is also used daily. So your own VPNProvider does not get the fact that the server operator (hoster) logs the data, nor that he has passed the data to authorities.
What else can you do about it?
1. VPN with own IP addresses
The solution for this is really just that one VPNProvider that has its own hardware and IP addresses actually registered in its own name. Then the authority requests come exclusively to the VPNProvider directly. In that case, the company's location will become more relevant again and be informed in accordance with local legislation. (Provider with own IP addresses is eg .: VyprVPN, with location in Switzerland)
2. Multi-Hop VPN
The second solution is simply over Multi-Hop VPN (VPNcascades) In this case, the real user IP address and the used external IP address are never readable together on a single server. Therefore, a server host can never directly disclose a user through its own logging.
How do you recognize a "VPN WITH logfiles "?
It is therefore quite easy to determine that one VPN Logfiles used, if one of the following criteria applies. (Regardless of what the provider puts it on their own website!) Note that most vendors simply do not write the truth!)
The VPN uses logfiles if,
The provider offers rates that have the limitations,
such as maximum concurrent use of 2 devices or a data volume limit. Actually, this includes any kind of limitation, because technically it simply can not be limited without the use of a protocol, who may do where and how much.
of VPN the used ones VPNServer has only leased or not registered as owner for the used IP addresses.
The easiest way to find that out is by doing this http://ipinfo.io checked.
the terms and conditions of the provider assume that he must save data for it. Often in the terms and conditions measures are called, which require an interchange of log files even including activities.
The company is located in a country where the provider is required by law to store and maintain data of users at any time.
VPN Providers who have the company in one of the following countries are required by law to store and maintain "log files" about their own users and possibly also to share them with other countries:
"USA, Canada, United Kingdom, New Zealand, Australia, Israel, Japan, Singapore, South Korea, Denmark, France, Netherlands, Norway, Germany, Belgium, Italy, Sweden, Spain, Romania, Bulgaria, Poland"
Notice:
Generally you can also get any free VPN-Service to include in this list, since free services actually always "rented server use" and will never assume liability for the users. All freeVPN use "log files"!
Example of limitation in tariffs + log files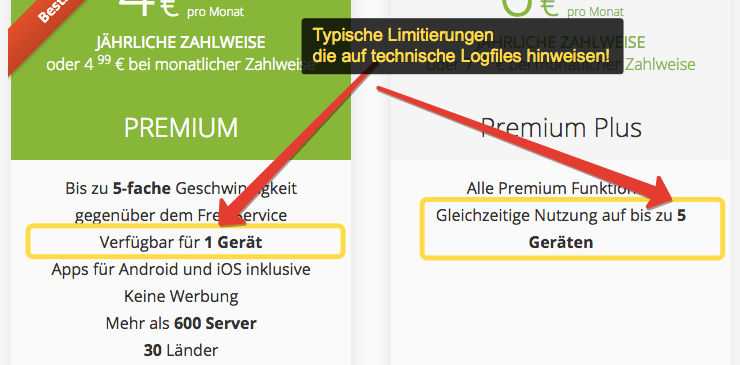 Example of terms and conditions that require logfile usage.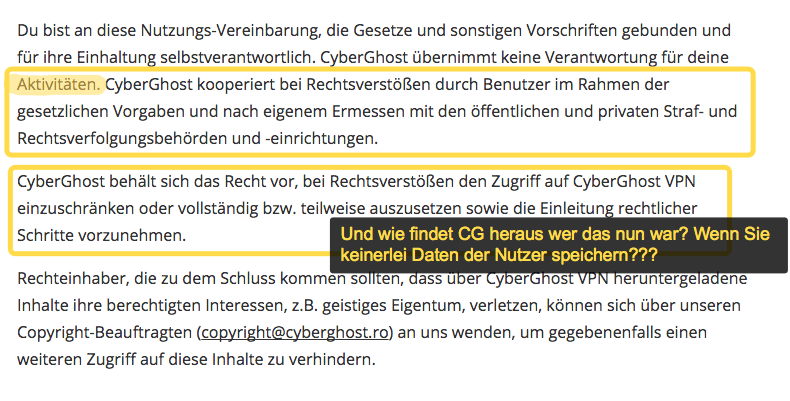 How do you recognize a "VPN WITHOUT logfiles "?
In reverse, therefore, you can also VPNs recognize, which will save no log files and where it seems plausible that they do not.
The VPN does NOT use logfiles if,
the connections, in all tariffs, are absolutely unlimited,
So without any restrictions are possible. So you could connect with 999 devices at the same time with the same access data
he himself is the registrant of the IP addresses used and also uses his own hardware / server.
the registered office is not within the aforementioned countries
and therefore there is no direct legal obligation to store data.
---
Conclusion on the log files
So there are simple methods, such as the technical layman, the plausibility of specifying a VPNs can check. If you understand, you will unfortunately notice that more than estimated 90% of providers here on their own websites quite massively wrong information. Do not be surprised if you will find very well-known suppliers among them. (Eg. CyberGhost, ExpressVPN, HideMyAss etc.) Therefore check well before you trust a supplier.
---
Note: What does the business location mean to you? VPN?
The seat of the VPNs can have a fundamental impact on your own data security. For example, the "14-Eyes "Countries" to prevent each other from circumventing the worldwide surveillance of all citizens, companies and governments. In this regard, there are also confirmed statements that companies (VPNProviders) were forced to share users' data or to allow monitoring. To this end, the siting of a VPN-Services that are serious about the privacy of users not possible in one of the cooperating states.
Created on:09/27/2017