The provider Perfect-Privacy VPN has a completely unique function for dynamic cascades (multi-hop VPN) released. Before that, general thoughts about the future of VPNs preceded by anonymization.
In a more and more monitored environment on the Internet, which is progressing worldwide, it also needs new solutions by means of a VPN-Service continues to guarantee the highest level of "anonymity" and "protection against surveillance".
International monitoring options have been further developed
While it is already possible today almost from any location also whole VPNServer with only incoming and outgoing data, solutions are required for the adapted conditions. It plays Multi-Hop VPN (Cascade) of course an essential role. Perfect-Privacy has been offering this technique for many years and now goes a few steps further - towards "future".
The Perfect-Privacy network has now been permanently networked.
Because the "cascaded connections" are even more effective if the established data connections between your individual servers are not always repeated, but exist permanently. As a result, the data of individual users are no longer kept separate from others through the internet. For this purpose, static "VPN-Connections "between each VPNServers from Perfect-Privacy eingerichtet.
Dynamic cascades - A practical solution at the highest level
With the new "Neurorouting ™" function, intelligent route guidance has also been implemented Perfect-Privacy Network introduced in which the optimal route to the target server is found and used immediately with every data call. This means that the data packets remain in the "strongly secured" VPN-PP network and at the same time the "end servers" are constantly changing. So "dynamic VPNCascades "are created based on the first connection you created.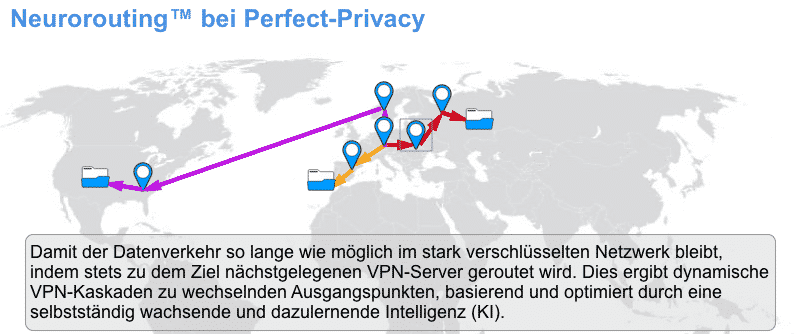 How to use Neurorouting?
In order to be able to use "Neurorouting ™", the user need do nothing more than activate this function in the customer area of ​​PP. This is done under the Configuration Summary (To use this link you need an active PP customer account)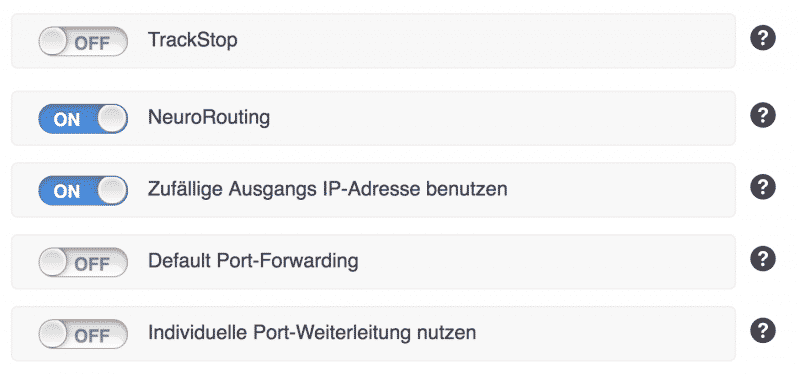 Once you have activated this feature, it will work for everyone VPNConnections, no matter what type of connection you have implemented this active. This applies to devices that use the PP Manager software, but also other connections that are made manually (routers) or via third-party applications.
Neurorouting ™ by Perfect-Privacy offers the following benefits:
Selects independently, the closest to the destination VPN-Server
The traffic remains encrypted as long as possible VPN-Network
external VPN IP address changes continuously and depends on the destination
Ideally, the traffic does not appear on the Internet at all
The number of possible attack points is drastically reduced!
Also complicates the international tracking considerably!
Dynamic and intelligent: The algorithm "learns" and responds to changes in the network and also on the Internet.
What you have to consider:
This is a feature that should guarantee maximum anonymity!
It should not be used:
If best possible DownloadSpeed ​​is needed (eg for torrents)
If you want to make sure, the same VPNLocation (IP address) to access all content.
The IP addresses as well VPNSites change dynamically and can therefore lead to display or functional problems when using different pages that contain data from different countries!
In these cases, or when it comes to problems with this feature, you can continue to the conventional multi-hop VPN Resort to cascades or even simple VPNServer use connections. Simply "deactivate" neurorouting.
How can you check the functionality?
After using different source servers for websites from different countries, you will therefore also use different IP addresses. Therefore, you can also understand this in different IP tests.
---

Created on:10/08/2017