The media haunts horology stories of copyright infringement by streaming movies on the Internet. First and foremost, an unsafe feeling persists among Internet users. What is allowed? What is forbidden? How can I protect myself? Many questions but never answered clearly, but there are very clear guidelines and legal regulations. There are also enough procedural judgments on which one can build a very secure legal opinion. Unfortunately, few journalists now do this work and prefer to keep on spreading "fear and terror" along with the warning "Streaming is forbidden so do not try it".
But since this does not contribute to the fact that users learn to understand the meaning and then behave correctly, that is unfortunately completely ignored.
What is really forbidden?
Basically, the reputation of copyrighted works is not punishable. If so with the consent of the copyright holder even done in no way.
Therefore, the "liability" of an Internet user begins only where he "knowingly" consumes content or media, and is aware that he can only use this, because this the rights of the authors were disregarded. (So ​​the rights holders did not agree).
Of course, this raises the question: "How can an internet user now recognize from a website he opens whether the contents are now made available to him and thereby the provider but the rights of the watchers were disregarded?" This question will be in the coming Years still some courts busy, because one thing is certain: "So clearly that is not recognizable!"
There are no "penalties" for streaming.
When often from "Punish"Is spoken, because of" streaming ", so you have to move this straight. Copyright offenses are always civil matters. So these are situations where two private persons or even companies make mutual liability claims or user agreements. Streaming and the resulting "warnings"Which many users receive, have nothing to do with police or prosecutors. So are always matters of two private parties. A claim of the originator may be that in the course of a warning you want to make clear to the user that he just took the infringement of his own rights when he consumed media over the Internet. "Punishments" are only used in administrative offenses or in criminal law, in civil law there are only judgments of judges who regulate the affairs of two parties. But no penalties!
The warning has no legal claim to be accepted by the user!
As a result, a written "warning" for streaming without any legal claim, as long as a court case or compensation for damages was not conducted. In this case, the amount of damage caused to a creator of a film, for example, because someone views this film once and alone at home on the Internet is certainly extremely low to measure. The replacement of revenue by a sold cinema ticket will limit this damage upwards. As a result, there are virtually no cases at present where copyright owners also bring ordinary users to justice. They prefer to leave with the quite lucrative business only "warnings" to ship.
It is clear to every lawyer that a paid warning, a multiple of what it will bring in, as a court case for the actual damages that you could ask, would bring in the client! Therefore, the "Abmahn-Industrie" flourishes, but there are no lawsuits if users do not accept these warnings!
So when do you have to pay?
The Internet user can be liable for the damage caused if he has "knowingly" accepted that the copyright owner of a work (media, video, etc.) is brought to his legal rights. In other words
"If you know that you can only see something because the vendor shows it to you without having agreed with the copyright owner about the distribution."
This certainly applies to sites like serienstream.to and similar too.
So if you get a lawyer's letter because you've used a page or portal to watch videos without having to pay anything, then liability for that can be justified. But what now the reparation So, you have to worry about court costs and expenses, rather than the actual sum for the reparation of a loss, which actually hardly existed or would have just been covered with the purchase of a movie ticket. So if you have a legal protection insurance, then I would recommend this for such cases also to use accordingly and accept the warning under no circumstances.
If you have to bear the legal costs yourself (your own lawyer, the court and the costs of the generic lawyer) then the consideration is given, which will be economically more useful. Unfortunately, there are often high costs for the warnings zb 1.000 Euro, which are considered as the lesser evil.
In court, we are all the same, but it is not the same that not all financially can afford the court to try!
Prevention is better than having to pay later!
How can you protect yourself?
The expiry of the warnings is based on the fact that the copyright representatives know your IP address (from where they have this, from obvious cooperations with streaming website operators, we will leave out at this point!).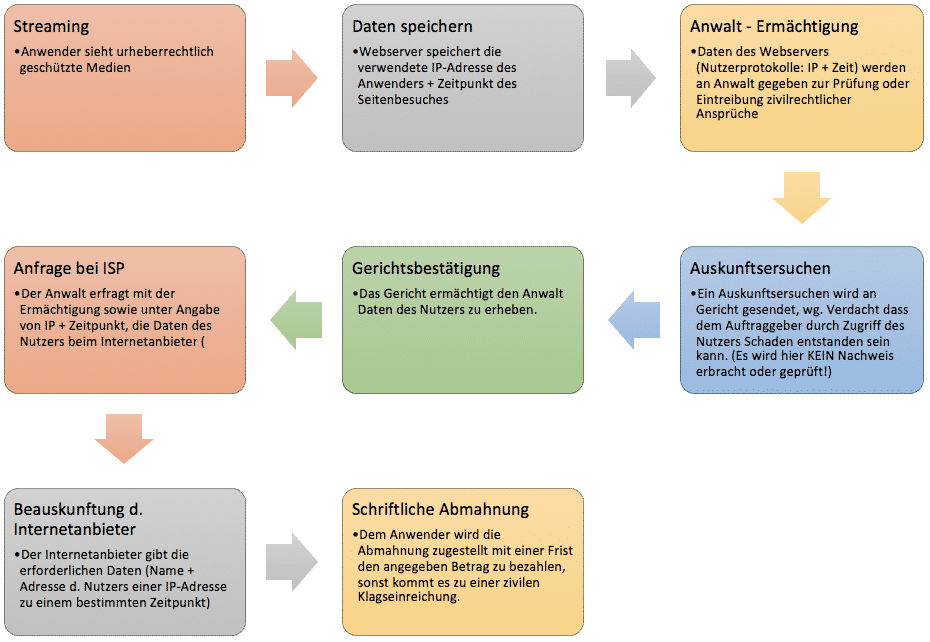 So your own IP address is the trigger for the traceability and the ongoing process of exploration. Therefore, it is advisable not to use your own IP address when using the Internet. With a VPN-Service you will use an address from abroad, and the civil law attorneys have no more leverage exploration. That sounds so easy, but it's just as effective.
Use of a VPN-Services reliably protects against prosecution or warnings!
Recommended VPN for streaming
Recommendation VPN use directly on the home router!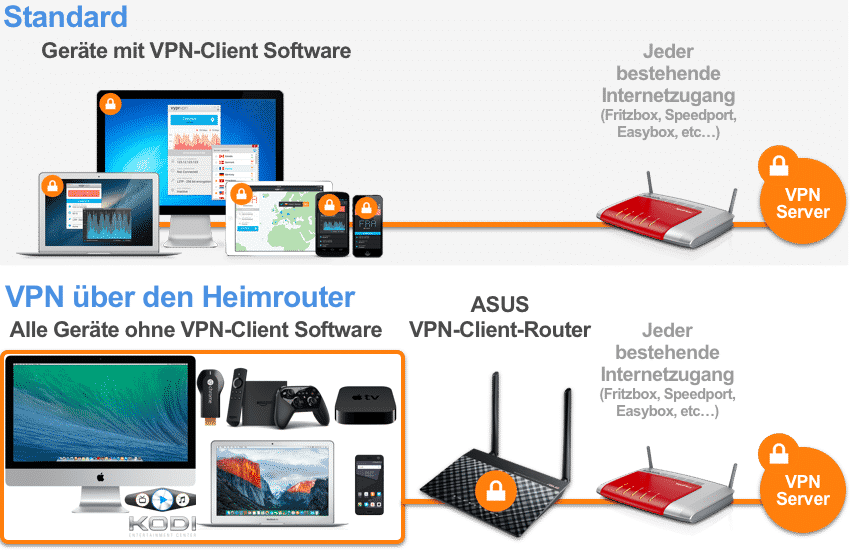 Created on:02/04/2018