Many of my readers would like to the advantages of VPN Use services directly on the router. This guide should help you with this.
VPN Service directly on the wireless router use!
This means that automatically all data goes over it also from devices which otherwise no VPNConnections support it to work. No installation of software is necessary and even children or young people are protected with it and warnings are finally a thing of the past.
Moreover, there are many different solutions on the market. But most of them are either very expensive or very complicated to implement. That's why I've been testing the best solutions for months, and as a result, the solution has remained the only truly commendable option through its own ASUS router.
Advantages and open questions:
You can connect an ASUS router to any existing Internet router!
The big advantage is that it does not matter which internet provider or router you currently have in use. Even special configurations for VoIP phones or fax machines or NAS solutions remain unaffected. The ASUS router is connected like an additional device to your existing router, it does not create any configurations and everything that then runs on the ASUS is safe.

The price is right and you can do almost anyone VPN-Service then use it!
ASUS router the VPN Support is already available from about 35 Euro. This argument is also important, especially considering that this is not a limited solution. You can definitely do everyone VPN-Service which PPTP or OpenVPN support for it. So you can decide at any time freely for a change of your offerer and use also the best suitable for it!
Current offers on Amazon (Suitable ASUS routers VPN):
[amazon_link asins='B006FSLOVA,B00S9BI9SM,B01L1V1GJK,B005T3TIBK,B01L1VEFES,B00897IKNK,B00FL1IFM8,B00NC744BY,B00XJKH67I' template='ProductGrid' store='vavt-21′ marketplace='DE' link_id='13715f7f-0bea-11e8-ba4a-c90cf9c14cb0′]
Easy to install and stable in operation.
The installation of the ASUS WLAN Router is usually within a few minutes and even inexperienced users have no problems. This is an important factor, as most other solutions are difficult to understand, even for experienced users. In many cases it is necessary to customize the firmware of the router's operating system, etc. This is not necessary for AUSS routers. ASUS supports these features with setup help and very simple and easy-to-see settings.
Instructions Commissioning ASUS WLAN Router with VPN
But let's just get to show the steps once. Normally, even inexperienced users have done it in a few minutes. If you are not sure, then just write me. I also like to help you in live chat or otherwise. So just dare to do that.
Preparation
VPN Order service
If you do not have one yet VPNService, then I can recommend you to order one. You will need the access data for this in the following. Two factors are important here: PPTP or recommended way OpenVPN You will need configuration files. I recommend the following providers for you, but this is with many.
Make sure that you use the service accordingly with external devices via PPTP or OpenVPN (with ovpn configuration files) can use.
Short instruction VIDEO
Example: VyprVPN set up on ASUS router (video)
---
1. unpacking
2. Connect router and connect
Connect with the supplied LAN cable, the existing Internet router and the new ASUS router.
Scheme Overview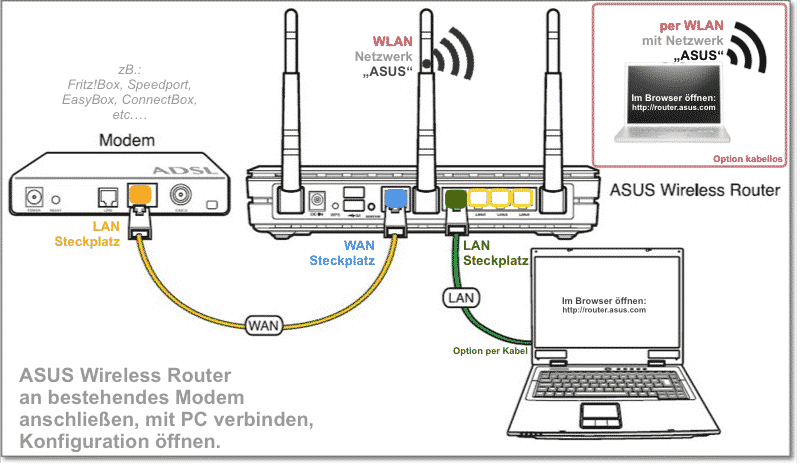 3. Connect to the electricity and turn it on
After unpacking and connecting the existing router to the ASUS router using the supplied LAN cable, you can connect the existing Internet router and the ASUS router with the power and start.
4. Connect to the ASUS router via Wi-Fi (or LAN cable)
In order to configure the ASUS router, you will find a new wifi network "ASUS" and connect to it.
5. ASUS start configuration routine
Immediately after connecting to the Wi-Fi network, a configuration screen of the ASUS router will appear on your computer.
In this ASUS configuration you set the following data:
(It would be useful and good to remember this too) The process is logically structured and you confirm the inputs by clicking CONTINUE clicks.
Username & password to manage the router (default is user: admin and password: admin)
WLAN network name (in our example: vavt-VPN and vavt-VPN_5G)
WLAN password (in our example: vavt1234)
TIP:
If you name your new wifi network the same way and use the same password as with your previous solution, then you do not have to change this data again with the devices. These will then connect easily with the new Wifi network without any changes!
Are these steps done, then you are already connected to the ASUS router directly to the Internet. The easiest way to determine this is if you open a website and it also appears in your browser.
Now we can start configuring the first ASUS router VPN Start connection.
6. VyprVPN OpenVPN Download configuration files and save locally. (.Ovpn)
If you have an active access (also valid username / email and password), then you can use the required OVPN Files from the Vypr websiteVPN load:
You load a packaged folder onto your device (.zip file) Unzip it and you will receive a folder containing two subfolders.
Files in the folder OpenVPN160 stand for 160-bit encryption
Files in the folder Open OpenVPN256 stand for 256-bit encryption
Each of these files with the extension .ovpn stands for an OpenVPN Configuration you will need later. The naming tells you which connection (ie which country it is)
7. ASUS router VPN Create connection
Now you open the access to the ASUS router administration. This usually goes via the IP address directly in the browser. In our example it is http: // 192.168.2.1 but it can also be http: // 192.168.1.1 (default) or another IP address. You should have received these before in the configuration.
You log in with your username and password.
(The default was: user: admin password: admin)
Put a new ASUS router VPN Connection toVPN Profile)!
Follow these four steps in succession.
Here you have the user data of your provider (VyprVPN enter):
Under "Choose file" you connect the previously downloaded ".ovpn file"The desired connection.
Select an .ovpn file with "öffnen" to confirm
Finally, you also have the selected file synonymous UPLOAD!
And then the connection with OK to confirm.
You already see this connection created. With "Activate"You can already use these.
Shortly after you "Activate"Clicked you see that the connection already exists!
Of course, you can now create multiple connections and change it with a simple mouse click.
Under http://ipinfo.io You can check if the selected connection actually exists.
8. FINISHED!
Created on:11/26/2016