Geographical locks for TV broadcasts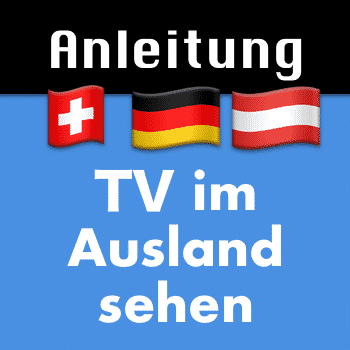 Many of my readers are faced with the challenge that they want to see German TV channels abroad. However, the geographical limitations of TV broadcasters are a problem. As soon as a seer connects to the Internet abroad, it also receives a local IP address. Based on the IP address this is compared with private databases and thus also the place of registration found. As the location to be assumed is thus abroad, these users are simply blocked on the basis of the transmission regulations. This means that you can neither use in media libraries nor live TV directly abroad. This actually affects all TV channels, as these are copyrighted works as long as they have the contractual obligation to limit the broadcast to a specific area. The same thing happens with the private video portals like Netflix, Amazon Video or Sky.
Use another IP from another country
But users can now use one VPNService to connect directly to a destination country and receive from one VPNServer provided an external and local IP address. This also means that these geographic locks will now find a new location for the user differently. As a result, these locks can also be bypassed. But nothing is as easy as it seems.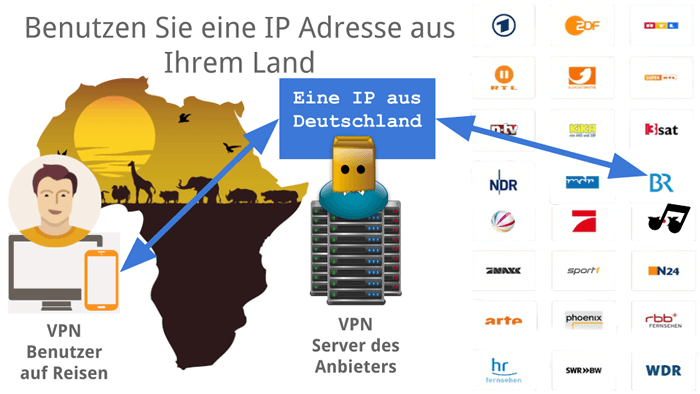 Also users with VPN Services can be blocked
Through updated copyright agreements were also VPNUsers or people who are currently using IP addresses of a server. Here it is argued that the applications that would allow the circumvention of geographic locks would also generally need to be prevented. The copyright industry is already in 21. Century arrived.
Instead of using media libraries simply Swiss TV portals
Well, there are still opportunities to see all German TV channels. This is made possible via Swiss TV portals. Switzerland has granted special status, which allows Swiss citizens to receive TV channels from neighboring countries as well. However, no further checks are made, only the location of the IP address is the criterion. Which is why Swiss TV portals also have one for users of a Swiss IP address VPNServer can and will continue to broadcast all TV channels. This not only applies to Swiss broadcasters such as the SFR, but also to the programs of neighboring countries from Germany, Italy, Austria, France and so on.
With a Swiss TV portal you can therefore follow all German TV channels live.
Another advantage of the Swiss regulations is that you can store all TV channels almost temporarily and permanently for private purposes. This means that these TV portals allow users to watch all broadcasts of all channels up to 14 days retroactively. In addition, the TV portals also offer the option of saving individual shipments automatically or manually permanently for the users. This of course replaces a local video recorder and is much more practical.
My personal experiences
For some years now, I have been using the portal zattoo.com, which as described is exclusively reserved for Swiss users (or users of a Swiss IP address). You can also use zattoo.com free of charge, then only has a single advertisement when changing the program. If you do not want to do that, you can save your 500 shipments with a Premium tariff and save them permanently and view them anytime, anywhere. 14 days to watch all TV channels retroactively or just to use the pause button during a transmission is, of course, very quickly a feature for all users that makes normal TV viewing much easier and more comfortable. So that has also meant that I look at home only on zattoo.com TV shows, and that with my children in part on 4 TV devices at the same time.
Access to trouble-free TV from home in all countries
But I'm also traveling a lot and can confirm that you can access even in far away places of the world like Brazil, Indonesia, Japan, China, Sri Lanka, Kenya, Thailand or other uninterrupted on all German TV channels. These were only the countries where I personally zattoo.com with VyprVPN Of course, it does go everywhere. (The local Internet line in general is a limiting factor, so if you only have ISDN speed, you will not be able to create FullHD.
The TV portal has many possibilities to be used on mobile or stationary devices.
How can you now use zattoo.com abroad and bypass the geographical barriers?
Generally, an active account is at one VPNService which also has a Swiss location is necessary. It is also important to ensure that the VPN Of course, should also have the connectivity for the desired device. But there are hundreds VPNAnd there are a lot of possibilities to overlook the choices that will make you later struggling, and here I am, contrary to my habits, one too VPNRecommend service.
VyprVPN - a Swiss VPN.
The advantage with VyprVPN is that you get all the relevant features for a reasonably low price to zattoo.com also abroad and on a variety of devices to use. VyprVPN costs only € 7.95 for the use of one month and only € 35.95 for the usage period of one year, ie less than € 3 per month. VyprVPN can be directly installed on many TV sets, but also on FireTV, Windows, Mac, Apple iOS, Android or on ASUS home routers. The possibilities are really almost unlimited.
Instructions for watching German TV abroad.
Vorbereitungen
I would like to explain in detail here how zattoo.com can be used abroad on its devices. The condition is that you have an active user account at VyprVPN already has. Therefore, if you do not have access yet, then order one "VyprVPN order"
VPN on a PC / Mac or tablet
First, you should you the VPN Install service on a device that allows you to log in to the zattoo.com account later in the browser. This will usually be a Windows PC, Mac or tablet with iOS or Android.
The necessary software for VyprVPN you can download directly to your device. The required apps can be found here:
VyprVPN Load applications
1. VyprVPN -Connect to "Switzerland"
Instructions zattoo 1
Now you open the browser. You keep the application / app connected to your device as shown in the instructions.
Created on:02/28/2019