ASUS routers are excellently suited to already without modifications VPNConnections too VPNBuild up servers. A further step is also a modification of the original operating system ASUSWRT by the modifications of "Merlin" The handling of the OpenVPN Connections including the routing rules of Tomato by Shibby taken over.
Advantages of the ASUSWRT by Merlin version compared to the original version are:
Changed OpenVPN use
Individual routing configurations for VPN are possible
(Who is allowed over which VPN Go online and who can not? What happens if VPNConnection is gone?)
Advanced Traffic Monitor (More clear and with more information about statistics per device and application)
Ok, everything sounds complicated, but it is not really. The instructions how to Perfect-Privacy VPN with a standard ASUS router We also used it. Of the Test report too Perfect-Privacy with much information is also available. If you have PP too Try it for free you want to contact me.
Instructions for installing "ASUSWRT by Merlin" on ASUS routers
You should already own an ASUS router with the standard operating system ASUSWRT.
The operating system ASUSWRT-Merlin is HERE available. It can be used on many ASUSWRT routers.
The installation is done by simply using the corresponding file via the firmware update. At the end of the normal update process, the router will have this modified operating system. Data and configurations should be backed up beforehand, but they are usually taken over easily.
video Tutorial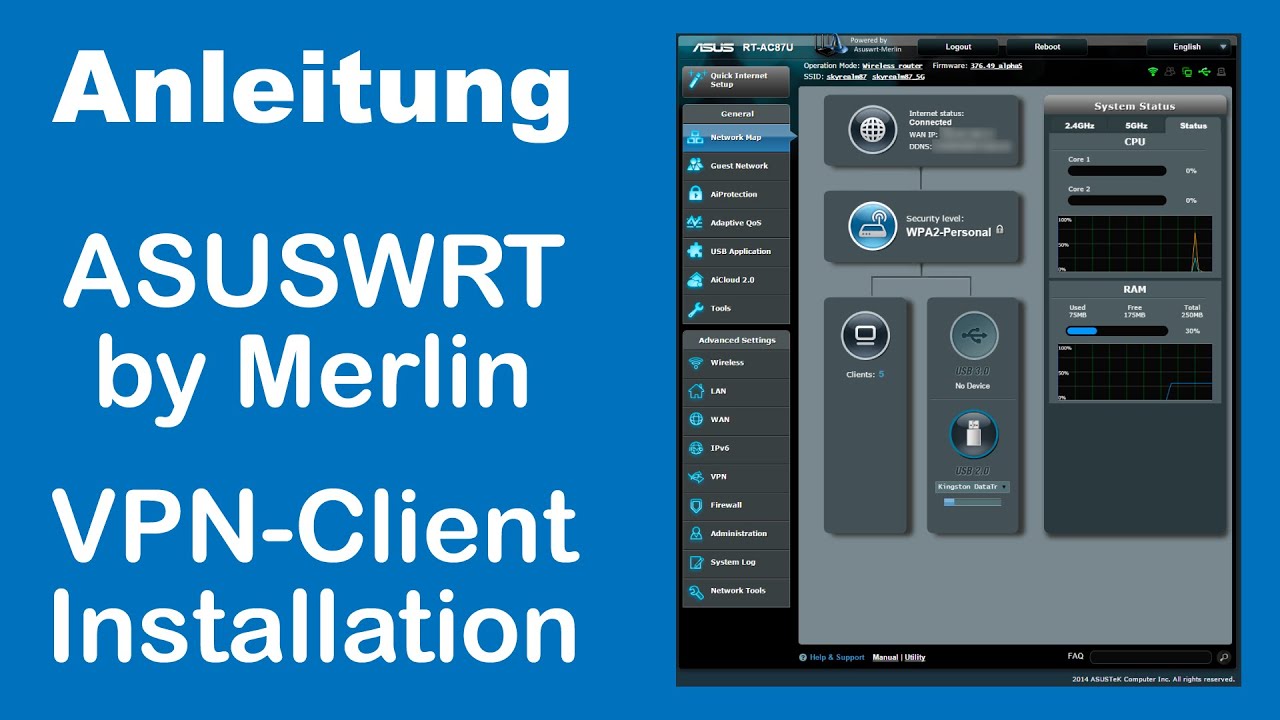 Instructions for installing Perfect-Privacy VPN on "ASUSWRT by Merlin"
The integration of OpenVPN is different than the original and seems more complicated. The PP OpenVPN However, configuration files assume the most important part of the configuration independently.
After an openVPN If you want to establish a connection and have come to the right page, you can select the predefined area (client 1, client 2, client 3, client 4, client 5). These predefined storage locations can come with different VPNConnections are occupied.
Get the right openVPN Configuration file from Perfect-Privacy VPN.
You choose the OpenVPN Configurations of here.
You can choose individual servers, servers as a group and in UDP or also as TCP. All versions will work with the ASUS router. (UDP may be blocked by some ISPs but has shorter ping times, but that should be known.) From the PP side, routers (legacy) use files with CPC encryption.
Invite the OVPNConfiguration high.
Then your view will be renewed and the basic configurations have been discontinued. Actually you need now only "username & password" enter and you could already about
Service state: connect / disconnect ON / OFF
If you get a CONFIG error:
Then you may have to make an IPv6 entry, this is how it works:

Optimize speed
The NAT acceleration should be switched off because of performance reasons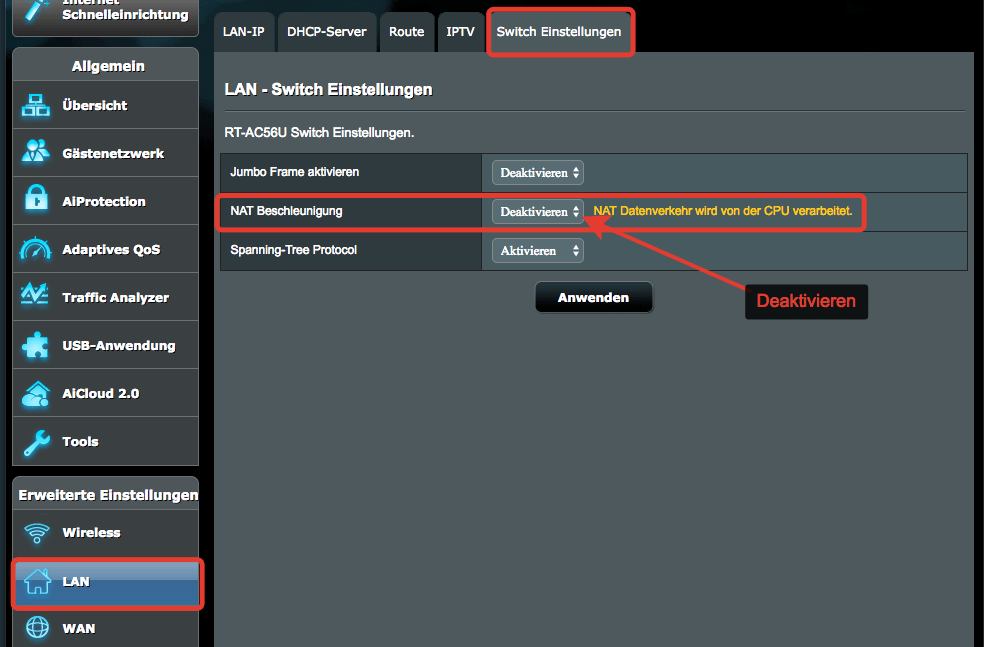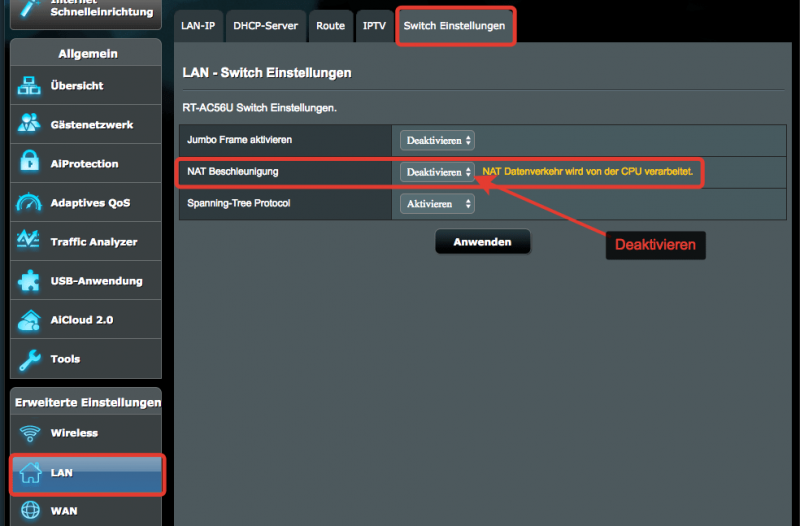 Further settings (DNS server + rules for the VPN Use)
Do you want to configure that the DNS server through Perfect-Privacy be specifically assigned and also determine which devices from your network via VPN or on VPN should be guided past, then you can make the following settings: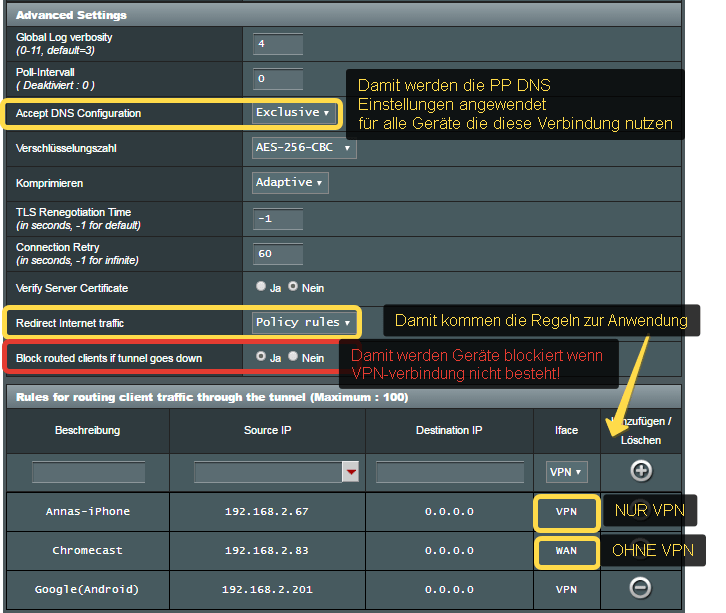 ---
Two Perfect-Privacy VPNConnections at the same time on an ASUS router!
You can also choose two different ones VPN Configure server and thereby route individual devices separately. At the same time! This has the advantage of the 1 device VPNConnection 1 uses while 2 device VPN Connection 2 uses and device 3 z.Bsp directly so WITHOUT VPN is directed.
How to do that I'll show here by example "two VPN Use connections at the same time:
Just create a second connection (Client 1-5) and start it.
In the overview, you can make sure that both run properly. (Important if you have already entered routing for the same devices, then there will be an IP conflict, so do not route any devices before, or make sure you do not get a device over VPN 1 and VPN want to be routed at the same time!)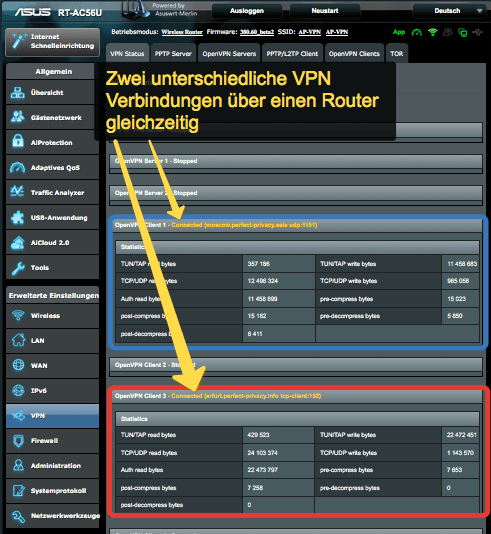 2. Set the rules for using / routing the devices (policy rules)!
Again: If you want to run the same device over two connections that will not work!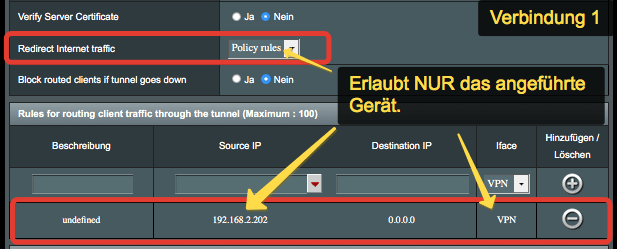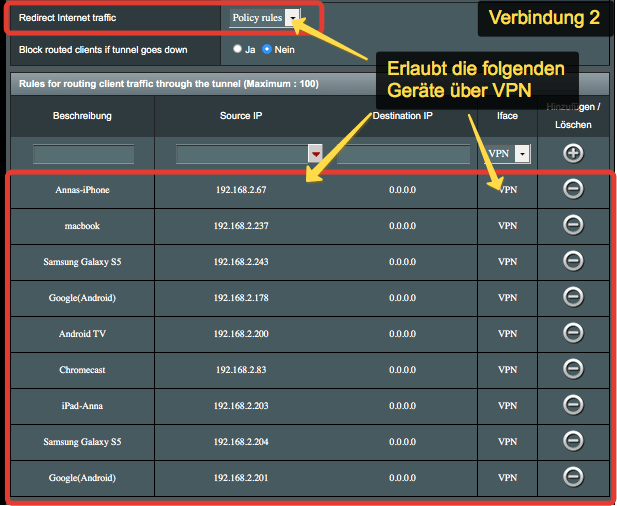 Note:
Use of more than two VPN Connections usually lead to IP address conflicts!
All devices that you do not routest / (in my example) are directly WITHOUT VPN be connected!
Created on:07/28/2016