Steganos Online Shield VPN
3.75 EUR
Benefits
German provider of a security solution
Varied filter options but without direct control over it
Negative
Cooperation with authorities in Germany
No real anonymity
Proxy services you have to trust the provider to 101%
Steganos Online Shield review
Steganos relies on classic VPN Connections between the end devices of the users and the server. So far this is also safe and even attackers have little chance of getting the data transferred to Steganos servers. Everything that is exchanged with Steganos Server with the Internet is anonymized by using Steganos IP addresses. Where the risk is now that Steganos overcomes many of its "filtering techniques" and also "security blockers" Proxy Server realized.
On the one hand, this is of course a performance brake, since proxy services do not process all data very quickly. Furthermore, Steganos also opens all data that are transmitted, even if they seem to have been securely encrypted between users and the website. This is done through the masking function of the proxy servers, which pretend to be the publisher of the website and to the website as the actual user.
This means that even encrypted bank details are opened, filtered and then passed on directly by Steganos Technik. This is done in both directions. This is also an ideal time to save the activities and the content of the communication and possibly also to pass them on to authorities or secret services. So if you use this technology, you have to trust this provider extremely.
| | |
| --- | --- |
| Product | Steganos Online Shield VPN |
| Recommended applications | Bypass locks |
Our conclusion on the Steganos Online Shield VPN Review
In a nutshell, I could summarize it with: Let your fingers off! If you choose another provider today, you can expect to have more power and control over it. With individual free tools and a good one VPN Providers are much faster and safer protected.
Company data
Steganos Online Shield VPN is a product from Berlin and is with many of my readers at the top of the list of favorites, so I wanted to take a closer look at the service. The result and my experiences are mixed but failed. As simple and appealing as the service is, the inconsequential dangers for privacy are also inconspicuous. Anonymity offers steganos VPN only to foreign websites, authorities and intelligence agencies have it very easy to come to other user data. For companies, this service is therefore clearly not suitable!
| | |
| --- | --- |
| operating location | Germany |
| billing location | |
| Local legislation affects customer protection | ✘ |
| Server locations | 0 |
| No log files | ✘ |
| Own DNS server | ✘ |
| Virtual Server | ✔ |
| Dedicated server | ✘ |
| RAM disk server | ✘ |
| Owner of the hardware | ✘ |
| Owner of the IP addresses | ✘ |
Let's start with the seller's full-bodied promises in his explanatory video: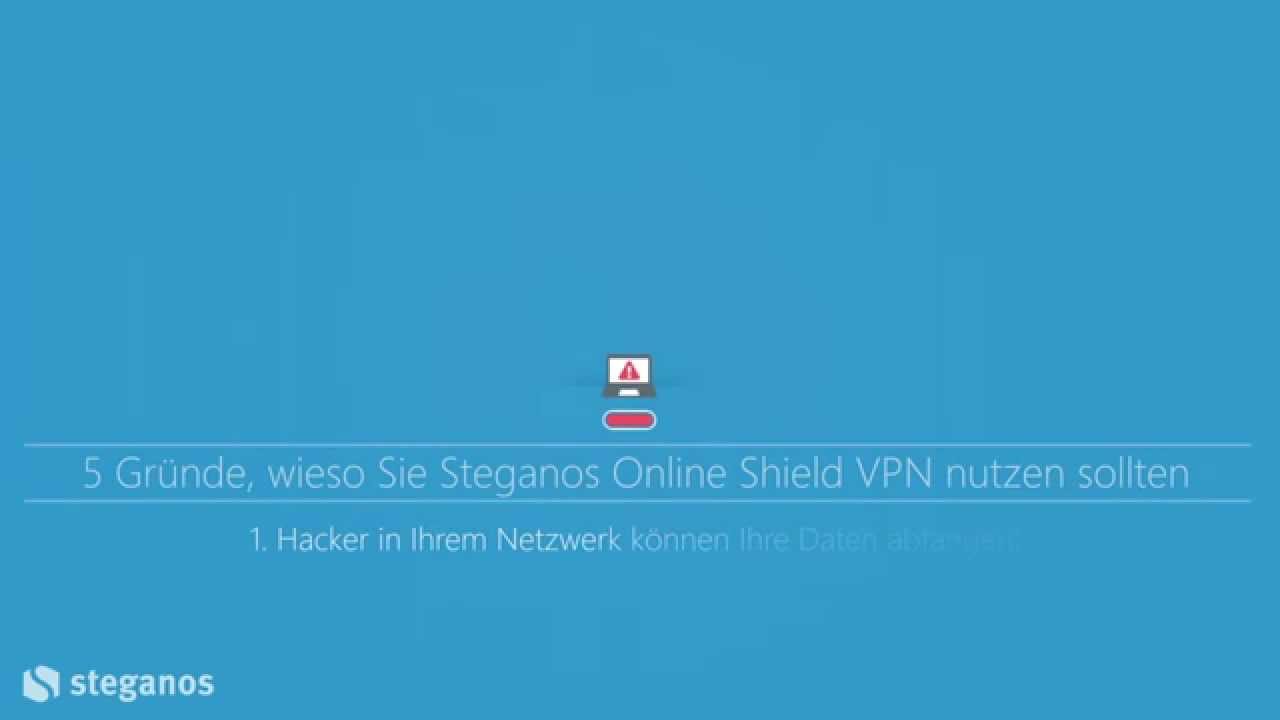 Many of these statements are also correct. However, one must also say that it takes a good deal of trust to be on the Internet with this provider and some of the applications such as the tracking blocker should be installed directly in your browser and free of charge, for example: "Ghostery" protected more securely and flexibly on the Internet.
Prices and tariffs
Steganos offers various packages and also a 7 days trial period for all tariffs. What seems like a one-off product can then be extended after the expiration of a year by purchasing an additional license for a specific period of time and a certain number of devices.
What seems basically cheap, but in direct comparison with others VPN Providers only mediocre because of the required number of servers.
Costs / tariffs

Free use
✘
Tariff (1 month)
7.99 EUR
Tariff (12 months)
49.99 EUR (per month 4.17 EUR)
Tariff (24 months)
89.99 EUR (per month 3.75 EUR)
Number of concurrent connections per account
1
test options
Free fare available
Apps and protocols
There is access software for Windows and apps for Android and Apple iOS. These are all very simple and executed in German. Of course, what seems graphically appealing at first glance is also computer intensive and therefore requires a good deal of battery power, especially on mobile phones.
What surprised me a bit was that there was still no fix for the DNS leak at Windows 10 at the time of the test, although it is urgently needed and already known since the spring of 2015.
The possibility to connect routers or other devices is missing completely!
| | |
| --- | --- |
| Available protocols | IKEv2L2TP / IPSecOpenVPN (TCP)OpenVPN (UDP) |
| Own applications / apps | AndroidApple iOSMac OSXWindows |
| KillSwitch function | ✘ |
| Language of the applications | GermanEnglish |
The server selection for the countries can be found in the settings:
France
Germany
Japan
Great Britain
Switzerland
USA
Netherlands
Austria
Romania
Spain
So that's it VPN Server in 10 countries. However, the individual servers can not be selected, so you have to rely on the software or rules in the background.
Steganos himself does not really talk about this subject, unless of course you cooperate with the German authorities in case of possible criminal data or even legal violations. Anonymity is something completely different! How many different servers Steganos actually operates was not explained to me even after multiple requests. Just as little as they would be protected. The Privacy policy on the website don't give anything to it. Basically, attempts have been made to deal with these circumstances as little as possible without providing information about any unpleasant realities.
Speedtest
The speed of Steganos Online Shield on the Internet. Snail pace instead of highway?
What I have already described technically now also applies to the speed of the test results. Steganos can transfer the data up to 10 MBit / second with a loss of approximately 20% and beyond that up to 30 MBit / sec with up to 40% performance loss. This may not be noticeable on the mobile phone, but in other applications it is a significant difference from the direct connection. This is due to the Proxy.Filter and probably also because too many users are routed through the same server. The user can not choose this.
Maximum speed tested
Germany | 06.06.2020
Internet privacy
If you really want to be safe on the Internet, Steganos is definitely not the right choice! The service works with authorities and secret services. It can easily happen that your own data is also questioned. For this reason, we advise against this VPN-Service from!
Anonymous on the Internet

Altered virtual location
✔
Protection against requests for information
✘
Gen. Prevent monitoring
✘
Prevent targeted monitoring
✘
No log files
✘
Obfusication (masking)
✘
streaming
Streaming is possible with this service. However, you cannot access most of the websites because this is the IP address of the VPN recognize and block.
Streaming TV and video content

Use on the home router
✘
Use with KODI
✘
SmartDNS
✘
FireTV app
✘
Avoid warnings
✘
Supported streaming platforms
zattoo (CH)MDR (EN)rbbWDR (DE)Arte DE)3Sat (EN)Servus TV (DE, AT, CH)
Download & Torrent
The fact that you actually have no choice on the mobile phone to which server you want to connect to makes things easier for the user, but the fact that the application automatically connects to Germany is not always the point. In some cases this can also have completely undesirable >> effects. For example with file sharing / torrent use. Therefore you have to strongly advise against it.
Download and torrent

Torrent usage allowed
✘
Own torrent server
✘
Avoid warnings
✘
Port forwarding
✘
Use on the router
Operation on VPNClient router

Use on routers
✘
Load balancing
✘
Fail-safe operation
✘
Own router application
✘
Compatible with
Online Gaming
Online Gaming

Low latency
✘
Use on game consoles
✘
DDoS protection
✘
VPN to travel
Whatever you want to put in your suitcase, you should first make a list and write down what you need. Steganos Online Shield should definitely be left at home! The service offers no protection.
VPN for travel and abroad

Use in restrictive networks (China, hotels)
✘
Obfusication (masking)
✘
Protection in insecure wifi networks
✔
Shadowsocks or SOCKS5
✘
Customer support
Customer support is also quite poor. There is no live chat and no e-mail address that can be used to contact the company. There is only one FAQ website.
Customer Service

Language of the applications
GermanEnglish
Customer Service
EmailFAQ website
Language in customer service
Features
Prevent social tracking
Blocks ads & popups
Deletes cookies automatically
Display of threats
are just made possible by exactly these proxy services. I recommend, however, because these services can indeed very personal data so that they can do this ONLY locally on their own device. Ghostery offers corresponding extensions for all browsers completely free of charge. The advantage is that the filtering does not take place on a foreign server but only on your own device and you can also see all blocked content yourself clearly and also exclude it once or permanently, etc. Own just control over even these sensitive processes.
special functions

AlwaysOn server
✘
Automatic IP change
✘
Dedicated Server
✘
Own DNS
✘
Own hardware
✘
firewall
✘
Shared IP
✔
IPv4
✔
IPv6 (new)
✘
No log files
✘
KillSwitch
✘
Load balancing
✘
Malware filter
✘
Multi-Hop VPN
✘
Neuro routing
✘
Obfuscation (mask)
✘
Own IP addresses
✘
Own torrent server
✘
Port forwarding
✘
RAM disk (k.HDD)
✘
SmartDNS
✘
Static IP
✘
Tracking Blocker
✘
Virtual Server
✔
VPN-to-TOR
✘
Created on:05/20/2016