SpyOFF VPN
7.79 EUR
Benefits
Very easy to use
Website and Actions in German
Absolutely exemplary customer area with transparency for all contract data
Negative
No protection against WebRTC, DNS leaks
Bank data is stored by the operator!
No app for iOS, router operation also excluded
SpyOFF VPN Review
SpyOFF VPN is in German online media with "Anonymous on the Internet" and "free test" heavily advertised, reason enough to take the service closely under the microscope. In our review, we have the pros and cons of the provider found. While the operation is user-friendly, SpyOFF is not equally well suited for all applications.
| | |
| --- | --- |
| Product | SpyOFF VPN |
| Recommended applications | Bypass locksStreaming (copyright) |
Our conclusion on the SpyOFF test report
SpyOFF has missed some transparency in the past, but is now on the right path. The service is recommended for inexperienced users and if you do not have a credit card, you can deduct it directly from the bank account. The customer area has now become a really simple and clear portal, where you have an overview of all the information you need right away. SpyOFF is suitable for file sharing and streaming and easy to use. Its use is limited to Windows, Mac OS, and Android devices!
Company data
SpyOFF offers VPN Access to servers in 29 different countries and also encrypt the connections with PPTP, L2TP and OpenVPN Default. However, there are no protective measures taken by the operator against targeted attacks such as WebRTC Leak, but you should not overestimate this, as this can also be secured by browser plugins.
| | |
| --- | --- |
| operating location | San Marino |
| billing location | |
| Local legislation affects customer protection | ✘ |
| Server locations | 31 |
| No log files | ✘ |
| Own DNS server | ✘ |
| Virtual Server | ✘ |
| Dedicated server | ✘ |
| RAM disk server | ✘ |
| Owner of the hardware | ✘ |
| Owner of the IP addresses | ✘ |
Web video SpyOFF VPN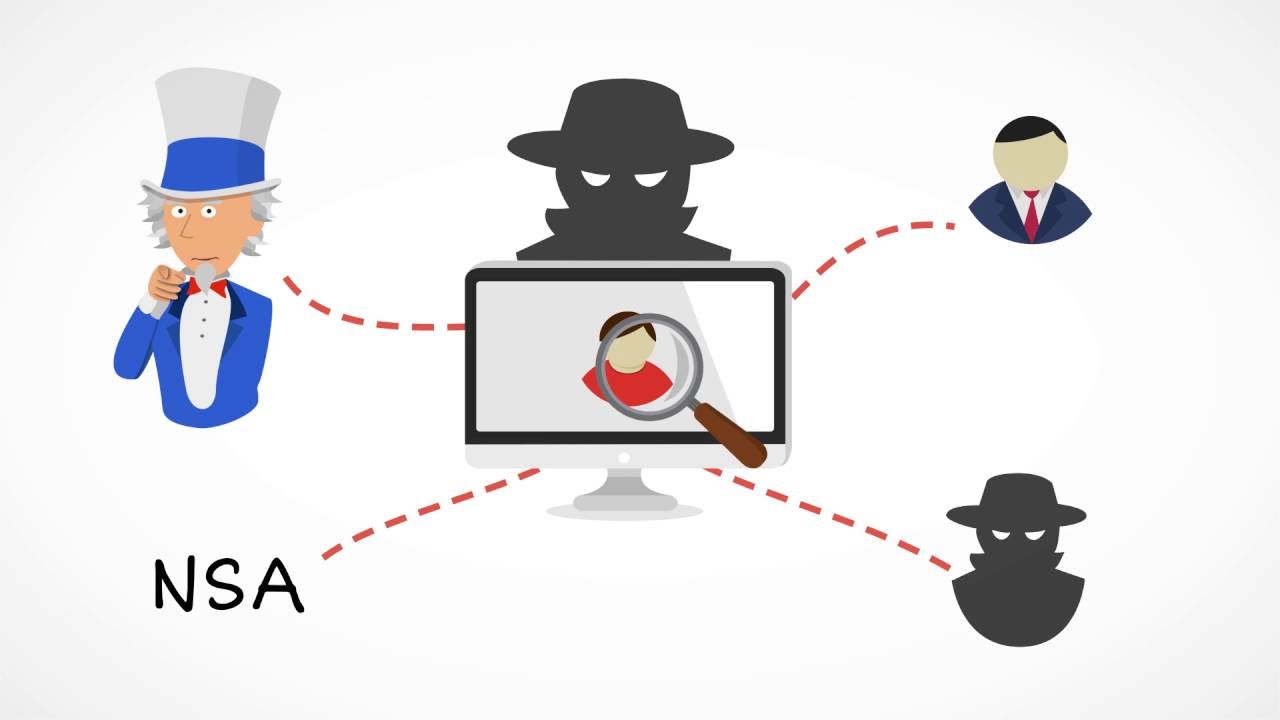 Prices and tariffs
The new and easier pricing has become much clearer. There is now only one tariff, which offers the use of all servers and applications without quantity limits or speed limits. You can pay and cancel monthly or annually.
They contain:
Access to all servers in 29 countries
Unlimited access
No speed limits
Use on up to 3 devices at the same time
As far as the methods of payment are concerned, SpyOFF offers payment methods via credit cards, direct debit and also PayPal. It will be deducted automatically, but this process is transprarent represented in the customer area and you can stop directly in the customer area the service.
Costs / tariffs

Free use
✘
Tariff (1 month)
7.79 EUR
Number of concurrent connections per account
1
test options
Refund warrantyLimited free trial period (without payment)
Apps and protocols
To offer SpyOFF apps / applications for Windows, Android and Mac OS, which will seem sufficient for most users. The big advantage of the service is that everything is done in German and is very, very easy to use. Even inexperienced users will have no problems with it.
| | |
| --- | --- |
| Available protocols | L2TP / IPSecOpenVPN (TCP)PPTP |
| Own applications / apps | AndroidApple iOSMac OSXWindows |
| KillSwitch function | ✔ |
| Language of the applications | German |
Speedtest
The servers that I could test were always ok with the speed at the beginning, but after 3-4h it has always slowed down. It seems like the IP addresses are either too few or the servers are simply being used by some filesharers. So you have to expect that you have to change the server used manually from time to time.
Notice: It is the case that the real IP address is also used at short notice due to the disconnection. Therefore it is advisable to change all programs before a connection change (Torrent, Downloads, browser), and to restart only after successful server change.
Maximum speed tested
Germany | 29.03.2020
Internet privacy
You have to understand that SpyOFF VPN individual leased servers are used, which as always offer good protection against general surveillance. But it is also essential that you make the appropriate settings on the browser to maintain its identity in any case, this takes one of the service of SpyOFF VPN not at the end. But as far as the usage for "streaming" or "file sharing" is concerned, you are safe with the provider. The often annoying topic of "log files" can be taken as given in this case, but this is not a disadvantage for the stated uses. So you can be sure to know your identity well enough.
Important notes or possible problems:
SpyOFF VPN does not offer its own DNS server for use, this can be a disadvantage. It is therefore necessary to manually specify the DNS selection on your own device. (DNS provider)
SpyOFF stores the bank data of the users and books them independently. You have to know that, and not everyone will find it convenient to have their payment details directly with you VPNService remain stored.
As for the protection WebRTC leak SpyOFF is not able to prevent this, but there are corresponding browser plugins, which you can use for it.
KillSwitch is NOT ACTIVE when changing servers! It is the case that the real IP address is also used at short notice due to the disconnection. Therefore it is advisable to change all programs before a connection change (Torrent, Downloads, browser), and to restart only after successful server change.
Anonymous on the Internet

Altered virtual location
✔
Protection against requests for information
✘
Gen. Prevent monitoring
✘
Prevent targeted monitoring
✘
No log files
✘
Obfusication (masking)
✘
streaming
Streaming is with SpyOFF VPN quite possible. You are safe from warnings and do not have to worry. There are actually no interruptions, since the provider's selected servers have a lot to promise.
Streaming TV and video content

Use on the home router
✘
Use with KODI
✘
SmartDNS
✘
FireTV app
✘
Avoid warnings
✘
Supported streaming platforms
Servus TV (DE, AT, CH)
Download & Torrent
Torrenting is also permitted with this service. The service offers its own torrent servers and you are also safe from warnings.
Download and torrent

Torrent usage allowed
✘
Own torrent server
✘
Avoid warnings
✘
Port forwarding
✘
Use on the router
The use of a VPNRouters or the easy use of one VPN via the home router is very much in demand these days. The VPN There are many advantages to connecting via the router. You can easily protect your whole family from dangers on the Internet. Unfortunately SpyOFF does not offer suitable applications for this and is not recommended for these purposes.
Operation on VPNClient router

Use on routers
✘
Load balancing
✘
Fail-safe operation
✘
Own router application
✘
Compatible with
Online Gaming
The service does not offer applications for game consoles. In addition, there is no special protection against DDoS attacks or the like. We definitely recommend another provider for this purpose!
Online Gaming

Low latency
✘
Use on game consoles
✘
DDoS protection
✘
VPN to travel
Protection functions for privacy in public networks are absolutely necessary when you are abroad. Unfortunately SpyOFF does not offer any suitable functions here either, which is why we choose another one here VPN . Recommend
VPN for travel and abroad

Use in restrictive networks (China, hotels)
✘
Obfusication (masking)
✘
Protection in insecure wifi networks
✔
Shadowsocks or SOCKS5
✘
Customer support
A customer area should offer the most important information for use and also the contract area with just a few clicks. This is precisely what the customer area of ​​SpyOFF does VPNwhich I would prescribe as "exemplary". Not only that you can find all the information quickly, but you also has the contract data area with high transparency and clarity, in which one is constantly informed about payments, debits and also the end of the contract.
Customer Service

Language of the applications
German
Customer Service
EmailFAQ website
Language in customer service
Who wants to cancel the service. is just a few clicks of the required information. That's how it should be!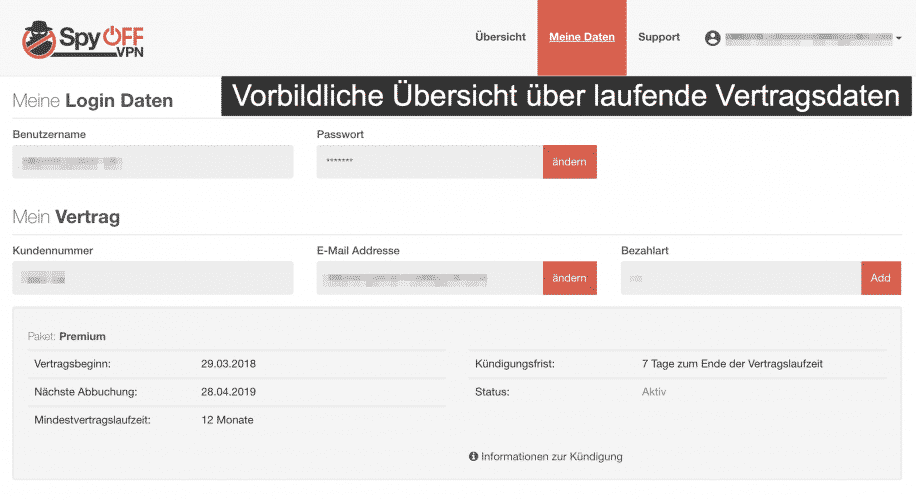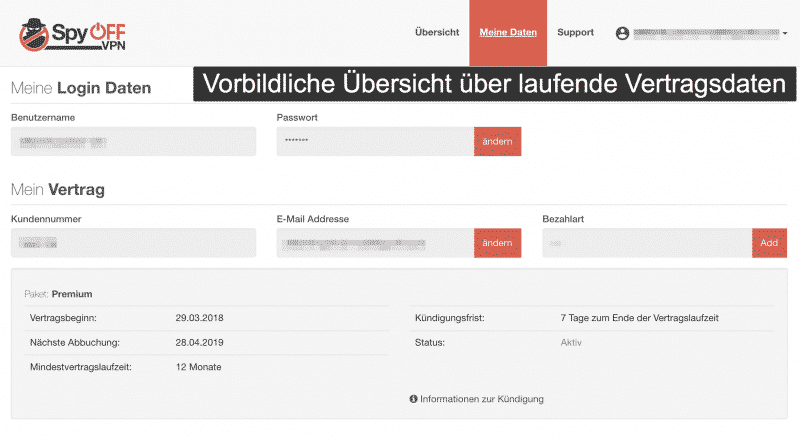 Features
special functions

AlwaysOn server
✘
Automatic IP change
✘
Dedicated Server
✘
Own DNS
✘
Own hardware
✘
firewall
✘
Shared IP
✔
IPv4
✔
IPv6 (new)
✘
No log files
✘
KillSwitch
✔
Load balancing
✘
Malware filter
✘
Multi-Hop VPN
✘
Neuro routing
✘
Obfuscation (mask)
✘
Own IP addresses
✘
Own torrent server
✘
Port forwarding
✘
RAM disk (k.HDD)
✘
SmartDNS
✘
Static IP
✘
Tracking Blocker
✘
Virtual Server
✘
VPN-to-TOR
✘
Frequently Asked Questions
Are you with SpyOFF VPN for sure?
If you plan to use various video portals and want to protect yourself from warnings, you can definitely use the service! We recommend another for maximum anonymity VPN.
Created on:02/06/2016