securevpn.to
6.26 USD
Negative
No information available to the operators
No legal protection against the operator
Own application available only for Windows.
Only payment methods that do not allow inference to the operator
We can not evaluate compliance with standards for data protection without knowing data about operators.
I was often asked if I had the VPNProvider securevpn.to know. According to my readers: "A really great one VPN Service and offers absolute anonymity. ". Of course that's a reason to take a closer look at this provider.
Who is behind it?
The first thing that strikes you is that the provider does not indicate a company identification, not even a location of the establishment. Imprint is missing here completely. This is of course already a special situation, if one therefore does not know who actually operates the service and according to which legal framework this is also to be evaluated.
Of course, a provider without an imprint always means a certain risk for the integrity of the use!
| securevpn.to | Details |
| --- | --- |
| Business location | Unknown, no persons or company known. |
| Server locations | Locations in 24 different states more than 30 + available active servers |
| language versions | English |
| VPNprotocols | OpenVPN UDP & TCP up to 256-bit, SOCKS5 Proxy, STunnel |
| File sharing | |
| VoIP | |
| DNS leak | Only with client for Windows |
| IP Leak | Only with client for Windows |
| WebRTC leak | Only with client for Windows |
| Windows Logon Leak | No protection |
| logfiles | Contrary to the statements of the supplier are on the VPNServers very well logs the login and logout times of users with their real IP addresses. |
| access software | No own access software available. But instructions and also help by the customer service. Consistent security through open software in use. |
| Special functions | STunnel, Socks5 Proxy, software only for Windows devices, otherwise free solutions for OpenVPN |
| Prices | 1 month € 11,50 / 6 months € 53 / 12 months € 95 (~ € 7,95 / month) |
The technology server
axvpn.to uses rented servers at various locations around the world and, in addition to SOCKS5 Proxy and STunnel, only offers OpenVPN as a connection protocol. Although this is a very secure standard, you have to access free software, which significantly reduces its applicability for most users. It's basically securevpn.to with it with providers like ZorroVPN comparable. However, this provider offers the much larger server selection and, more importantly, also VPNCascades. The securevpn.to also offers normal and expected performance, so the loss is openVPN typical at 5-10% of the bandwidth, which is absolutely normal and can also close to not overly busy server.
axvpn.to only offers access via OpenVPN and simple VPN Server.
Prices & payment methods
The provider offers a variety of payment options and these are primarily designed so that even a payment is possible without the provider itself must reveal his identity. Which clearly indicates two things: The provider does not pay taxes or he has something to hide. An anonymous form of payment does not bring any benefits to users, as the use of a VPN Servers is always publicly known anyway (connection of the user to VPNServer is transparent on the Internet) should be more than skeptical.
securevpn.to allows payments with Paysafecard, PerfectMoney, Etherum and Bitcoin, (Bitcoin transactions should be eliminated due to the expensive transfer channels)
securevpn.to has no contracts with well-known payment service providers, presumably because you have no legal basis for the operation of the service. Alleged benefits arise only for securevpn.to itself, but not for the users.
| zeitraum | Price | Euro per month |
| --- | --- | --- |
| 1 Monat | 10.00€ | 10.00€ |
| 3 months | 25.00€ | 8.33€ |
| 6 months | 45.00€ | 7.50€ |
| 1 year | 75.00€ | 6.25€ |
| 2 years | 120.00€ | 5.00€ |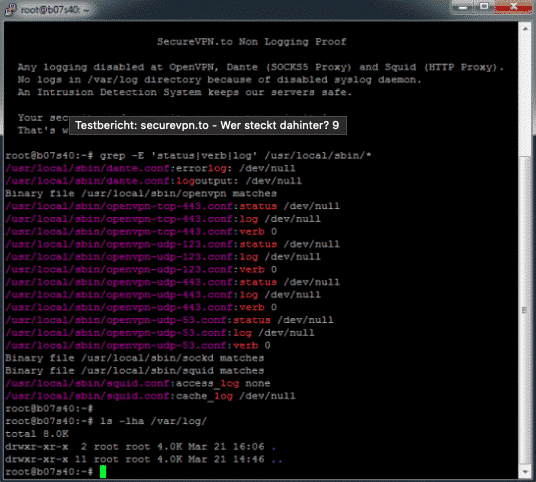 securevpn.to the "No-Logging Proof"
There are commands in Linux which would display this text with these outputs, but it is simply no proof that it is. The "definitive proof" is nothing more than a simple representation and has no meaning at the end.
I have therefore made a test that should bring light into the dark and have repeatedly connected to the same IP address to the same server and lo and behold, the server has assigned me in any case, the same internal IP address. That confirms that VPN-Server of course uses an internal log file. It would hardly be feasible any other way, but it is surprising that the operators now condescend and publish pictures as evidence to the mostly poorly trained users.
The alleged proofs are nothing but pictures without meaning!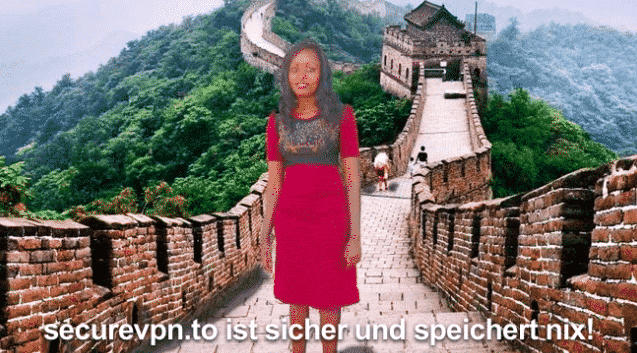 My conclusion to securevpn.to
Please keep your fingers off such providers!
There are already enough free providers who actually have no contact details or company data and who then work fraudulently. Securevpn.to also does not explain why the operators want to remain anonymous. Of course, this is not to the advantage of the user, why should it be one if you don't know WHO to trust? Images that are supposed to provide proof that the provider does not use log files are also not exactly trust-building.

For the same money you also get providers that offer much better protection through cascades and also transparent owners and operators have structures.
Created on:12/27/2017