| | |
| --- | --- |
| Connections per account | 5 |
| Tariff (1 month) | 9.60 EUR |
| Tariff (12 months) | 41.95 EUR (per month 3.5 EUR) |
| Tariff (60 months) | 71 EUR (per month 1.18 EUR) |
| test options | Refund warrantyDiscounted trial period (special price for limited time) |
| video platforms | Netflixmaxdomezattoo (CH)Arte DE)3Sat (EN)ORF (AT) |
The PureVPN Test result with all experiences, details and a fair evaluation.
The VPN HongKong provider offers a huge VPNNetwork, fast connections and is fully equipped. SmartDNS, proxies, software for every device and a good price. VPN Servers in 141 countries and impeccable speeds complete the offer. Although PureVPN In the period of action it is very cheap, it also offers a very good security for the protection of privacy. There are, though VPN-Service already almost 1 million Customer did not find any negative posts or comments on the web, I too have to join the positive review!
Geschwindigkeit
I've tested many of the servers, all of which my schedule would barely allow PureVPN yes more than 500 VPN-Server operates. Well, I was able to determine that the connections from Germany to the USA, South America and also the Eastern European area are very good. Connections to Asia were sometimes broken, especially early in the morning. Whether this directly with PureVPN is difficult to judge. Generally, however, the servers are all apparently very easy to reach and provide a useful transfer performance even to FullHD video streams to see.
Privacy
The service uses several methods to keep the data connections "private", ie L2TP, OpenVPN and for compatibility with many devices also PPTP (Since you do not need certificates that you can not install on a router, for example) Ok, the measures correspond to the good standard of what I would recommend.
anonymity
One can at PureVPN Pay anonymously and set up an account with a valid email address using false information. The provider describes that he does not save any user activities and maintains them on the partly rented servers. We can of course not check this, but I assume that a provider de rauch has no legal obligation to not want to do the effort to provide data sets to authorities from hundreds of countries, so it is realistic. However, as a precaution, one should not use servers in countries where authorities and secret services have full legal authority over personal data, such as the USA, Great Britain, Canada, Germany, France, Australia, New Zealand, Japan ... the rest of the world is still considered safe 🙂 PureVPN therefore recommends and also to protect yourself, these countries do not use for file sharing.
PureVPN Streaming Test (Video):
Results with PureVPN Application:
- Netflix (DE): ✔︎ Yes
- Amazon Video (DE): ✘ No.
- DAZN (DE): ✘ No.
- Maxdome (DE): ✔︎ Yes
- ARD (DE): ✘ No.
- ZDF (DE): ✘ No.
- SRF (CH): ✘ No.
- ORF (AT): ✔︎ Yes
Results with PureVPN on the router:
- Netflix (DE): ✔︎ Yes
- Amazon Video (DE): ✘ No.
- DAZN (DE): ✘ No.
- Maxdome (DE): ✔︎ Yes
- ARD (DE): ✔︎ Yes
- ARD media library: ✔︎ Yes
- ZDF (DE): ✔︎ Yes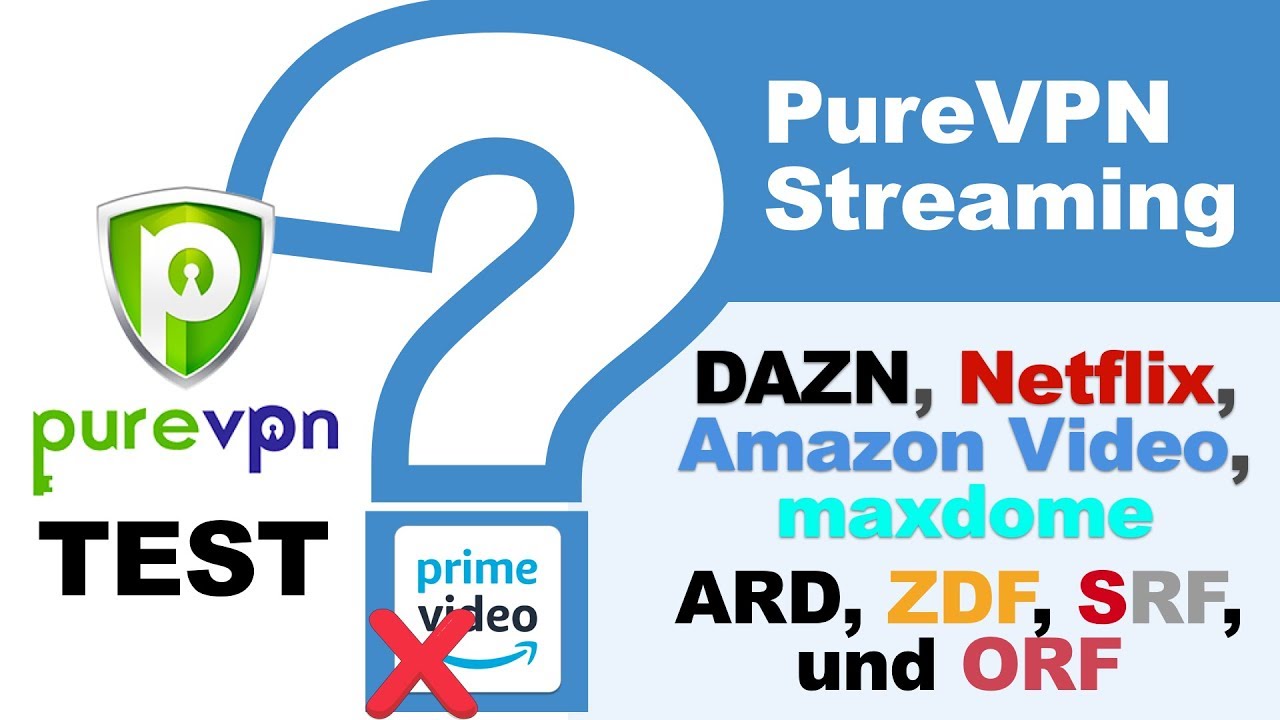 So with PureVPN German TV channels can also be used on the router. With the app or the PureVPN Applications are not.
Overall offers PureVPN only a satisfactory result. It is doubtful that the service will be even better in the future and he just has problems to run video portals abroad stable and is often recognized and thus blocked.
[/ Wc_box]
Price
PureVPN There are also most providers in monthly rates. Included here are the unlimited access to all services (500 + VPN Server in 141 countries, SmartDNS, proxies, etc.) with access for up to 5 devices simultaneously!
My Opinion
PureVPN has fast connections, provides good standard privacy protection and even promises anonymity. To do this, access VPN-Server in 141 countries and a great price! Well hard not to recommend that, even if I use a different service for 100% anonymity, I have PureVPN for everything else (eg Torrents, on the smartphone and also for the videos from the USA)

But you have to say that for the current price it is the PureVPN offers, there are also really much better providers. eg. VyprVPN for just € 3.50 / month
| | |
| --- | --- |
| Connections per account | 5 |
| Tariff (1 month) | 9.60 EUR |
| Tariff (12 months) | 41.95 EUR (per month 3.5 EUR) |
| Tariff (60 months) | 71 EUR (per month 1.18 EUR) |
| test options | Refund warrantyDiscounted trial period (special price for limited time) |
| video platforms | Netflixmaxdomezattoo (CH)Arte DE)3Sat (EN)ORF (AT) |
Created on:01/25/2016