HideMy.name
2.5 EUR
Benefits
Absolutely anonymous service without user account
Very good data encryption
Large network worldwide
Anonymous payment method
Fast customer service / reactions
Negative
Only available in English and Russian!
HideMy.name VPN Test
HideMy.name VPN from Russia is a top provider in terms of privacy and anonymity. We took a closer look at the service and tested it in all aspects important to the user. In our HideMy.name test report you will find all the details!
| | |
| --- | --- |
| Product | HideMy.name |
| Recommended applications | Anonymous communicationHigh anonymitySecure data transmissionBypass locksStreaming (copyright)Sharing / torrent |
Conclusion on ZenMate VPN
HideMy.name is a simple but very effective way to protect users' data. It just does not save any. I have also discussed the concept with the operators from Moscow for a long time and you have confirmed to me that this will be maintained as you yourself are not legally required to provide any information. The servers are fast and the operation has been simplified many the last few months, which is why I can now recommend the provider almost every user, even if for smartphones, etc. continue to use the standardVPN Configurations are used, (so no 1 click installation and ready online apps!) But which is also safer!
Content
Our Conclusion
The Company
Prices
Apps & Applications
Speeds
Privacy
anonymity
Download & Torrent
router
Gaming
To travel
Support
Functions & handling
The Company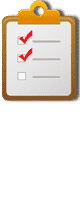 HideMy.name (ex.InCloakVPN) is a supplier from Russia. The special thing is how easy how to get the highest Anonymity and privacy can achieve this. Of the VPN-Service does not require a customer account or any personal customer data. A prepaid access number is simply acquired via a payment system, after which you can use all of the servers offered worldwide for the period ordered. Neither customer data is stored nor activities on the VPNServers are logged. Thus, the operator has no data he could hand someone else. The tariffs never extend automatically! The websites InCloak VPN and hideme.ru is the same internet service, which differs only by the domain / language.
VPN Server and network
The VPN Servers are currently in the following countries:
Russia
Lithuania
Hong Kong
Belarus
Great Britain
Poland
Italy
Kazakhstan
Indonesia
Netherlands (Holland)
Canada
Bulgaria
Czech Republic

Sweden
Finland
Israel
Turkey
Hungary
Romania
France
Estonia
Norway
Spain
Vietnam
Egypt

Isle of Man
Iceland
Japan
South Korea
China
Luxembourg
Switzerland
Singapore
Moldova
Germany
USA
Ukraine
| | |
| --- | --- |
| operating location | RussiaSeychelles |
| billing location | |
| Local legislation affects customer protection | ✘ |
| Server locations | 45 |
| No log files | ✘ |
| Own DNS server | ✘ |
| Virtual Server | ✘ |
| Dedicated server | ✘ |
| RAM disk server | ✘ |
| Owner of the hardware | ✘ |
| Owner of the IP addresses | ✘ |
Prices & tariffs from HideMy.name VPN

There are several options offered, all of which differ only by the time period. That would not be possible otherwise, since no user data or user rights are managed.
It always includes:
Access to 74 Servers in 35 countries
Running server extensions
OpenVPN, L2TP and PPTP
Unlimited bandwidth
Access to premium proxy lists on the website
7 days money back guarantee
Costs / tariffs

Free use
✘
Tariff (1 month)
7 EUR
Tariff (6 months)
24 EUR (per month 4 EUR)
Tariff (12 months)
36 EUR (per month 3 EUR)
Tariff (24 months)
60 EUR (per month 2.5 EUR)
Number of concurrent connections per account
5
test options
Refund warrantyLimited free trial period (without payment)
Software & apps
HideMy.name is available for various operating systems - namely for Android and Windows. The Windows software is particularly practical. It is only 3 MB in size, you do not have to enter a password, just your access number. Finished! Open source solutions are available for users who use other devices - for example from Apple. You can find the right solution here using your own configurator.
HideMy.name uses the following protocols VPN: PPTP, L2TP / Ipsec and just OpenVPN.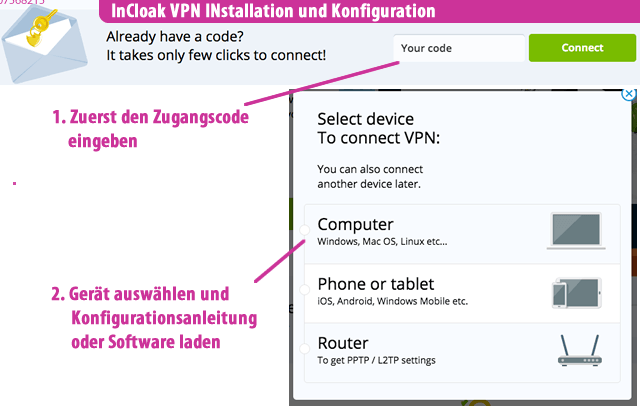 | | |
| --- | --- |
| Available protocols | L2TP / IPSecOpenVPN (TCP)OpenVPN (UDP)PPTP |
| Own applications / apps | Other OS / IntegrationAndroidApple iOSMac OSXWindows |
| KillSwitch function | ✘ |
| Language of the applications | EnglishRussisch |
Tested speed with HideMy.name
The HideMy.name servers are all well equipped and offer sufficient data throughput. In some cases, however, there were short-term failures in my test, which only affected individual servers. When I asked the operator, I quickly received an answer, during this period the servers were being serviced. However, other servers were still available due to this fact.
I have had the TV streaming service in operation for a period of 8 weeks, daily. The servers in Russia, Germany and the USA were perfectly accessible and there were no more problems. Basically, the speed reached is sufficient for HD broadcasts, presumably even higher data transfers are possible. I think absolutely sufficient and satisfactory for everyday use.

Maximum speed tested
Germany | 24.03.2020
Anonymity & privacy
HideMy.name has an approach that I did not understand immediately. It is the billing and the operation of the VPNNetwork completely separated from each other. This means that you can use a payment platform to acquire a unique access code that is valid for a certain period of time.
But this payment platform has no access or connection to VPN-Network. Therefore, you do not create a user account, but you can make any changes or configurations without a password only via the access number. Instead of user accounts, access is thus obtained via time-limited access numbers, so that the identity of the users is never stored on any server. Even with a fitting name of individual servers by authorities, no data would be disclosed.
This is as simple as it is ingenious and also saves the operator from being able to convey data when requesting information. Because what is not known can not be provided.
In addition, the activities are not stored, neither the data volumes of the users nor their IP addresses, etc. So nothing. This also leads to the fact that you can get in case of problems no specific customer service through his own user account (since this does not exist) but you simply get a new access code.
There is of course no automatic extension, etc. When the time of the access code has expired, you simply buy a new one!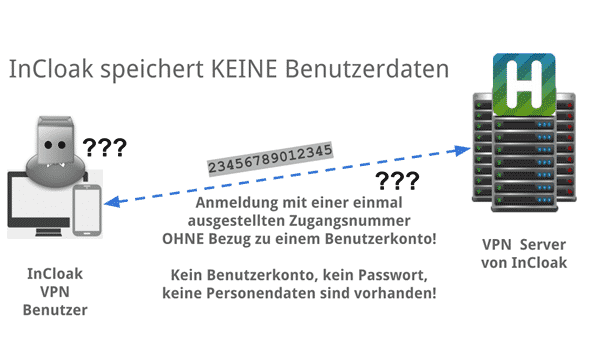 Anonymous on the Internet

Altered virtual location
✔
Protection against requests for information
✘
Gen. Prevent monitoring
✘
Prevent targeted monitoring
✘
No log files
✘
Obfusication (masking)
✘
Streaming with HideMy.name
HideMy.name allows streaming on all servers. Since anonymity and privacy are excellent, there are no risks like warnings. And the very good performance also speaks for the provider as a streaming professional.
Streaming TV and video content

Use on the home router
✘
Use with KODI
✘
SmartDNS
✘
FireTV app
✘
Avoid warnings
✘
Supported streaming platforms
File sharing P2P with HideMy.name VPN
The same positive picture emerges with file sharing as with streaming. It is allowed in all locations and thanks to the top speeds, Torrent also works very well. Merely the functions have to be cut back, there are no own torrent servers and port forwarding.
Download and torrent

Torrent usage allowed
✔
Own torrent server
✘
Avoid warnings
✘
Port forwarding
✘
On the router
HideMy.name does not have its own software for every device. Like Apple devices, routers can also be connected to the service. This is through OpenVPN- Configuration files feasible. Appropriate instructions support the user during installation.

Operation on VPNClient router

Use on routers
✘
Load balancing
✘
Fail-safe operation
✘
Own router application
✘
Compatible with
Online Gaming
HideMy.name lacks functions that optimize online gaming VPN Unfortunately. But you can connect the service to your Xbox Live and Playstation.
Online Gaming

Low latency
✘
Use on game consoles
✘
DDoS protection
✘
HideMy.name VPN to travel
When someone goes on a trip - he intervenes in matters VPN prefer to go back to other providers. HideMy.name works less in restrictive networks. The service only gives you protection in insecure WLAN networks.
VPN for travel and abroad

Use in restrictive networks (China, hotels)
✘
Obfusication (masking)
✘
Protection in insecure wifi networks
✔
Shadowsocks or SOCKS5
✘
Support
HideMy.name is not only completely anonymous, but also fast. In our tests, the support team responded very quickly, which of course is pretty handy. Especially when nothing works anymore ...
Customer Service

Language of the applications
EnglishRussisch
Customer Service
EmailFAQ website
Language in customer service
Features
HideMy.name VPN is the leader in privacy. However, there is still some catching up to do with its features. Here is an overview of the existing or, above all, nonexistent functions.
special functions

AlwaysOn server
✘
Automatic IP change
✘
Dedicated Server
✘
Own DNS
✘
Own hardware
✘
firewall
✘
Shared IP
✔
IPv4
✔
IPv6 (new)
✘
No log files
✘
KillSwitch
✘
Load balancing
✘
Malware filter
✘
Multi-Hop VPN
✘
Neuro routing
✘
Obfuscation (mask)
✘
Own IP addresses
✘
Own torrent server
✘
Port forwarding
✘
RAM disk (k.HDD)
✘
SmartDNS
✘
Static IP
✘
Tracking Blocker
✘
Virtual Server
✘
VPN-to-TOR
✘
Created on:02/03/2016