HideMyAss VPN
3.39 EUR
Benefits
The biggest VPN Network worldwide
Many useful functions implemented.
Customer service is always available quickly
Software is good and stable with easy handling
market leader with quality standards
Negative
Location in the UK
Customer service only in English
No 100% anonymity
Saves user data (logfiles)
Many problem reports by readers in stability and speed
| | |
| --- | --- |
| Connections per account | 5 |
| Tariff (1 month) | 10.99 EUR |
| Tariff (12 months) | 47.88 EUR (per month 3.99 EUR) |
| Tariff (24 months) | 81.36 EUR (per month 3.39 EUR) |
| test options | Refund warranty |
| video platforms | Netflixzattoo (CH)WaipuN24 (EN)MDR (EN)rbbWDR (DE)Arte DE)3Sat (EN)Cable1 (EN)MagentaTV (DE)ORF (AT)SRF (CH)Servus TV (DE, AT, CH) |
HideMyAss is the world greatest VPN-Providers with a Locations in 190 states and more than 1 million customers! There is to it extensive experience as the provider already since more than 12 years ago is working. However, in some cases, authorities have also been given data as this was based on a court decision. Therefore, with HMA you will not be able to achieve full anonymity, but you will have fast and reliable connections in as many countries as no other provider.
Geschwindigkeit
HideMyAss It has always been one of the fastest vendors on the market, which is also due to the fact that HMA has always built new and additional server farms that have spread the burden of users. As in the last few years, the software includes an automatic speed test which always finds the fastest connection for the user and optimizes connections. Of course, it can now be criticized that this would not be possible any other way, with more than 1 million active users, yet it is for the individual a pleasant and easy way to automatically select fast connections. Of course, anyone who wants to be connected manually and only via selected locations can do so too.
Privacy & anonymity
About the anonymity the HideMyAss offers is also heavily discussed on the Internet. The fact is, of course, that the provider has actually made clear statements. It stores no user activities but very well the connection data (So the IP address of the customer) and also its name and payment data. In case of a court request, this existing data will also be delivered to authorities. There's nothing wrong with that. This means that HMA can indeed guarantee a good level of privacy when using it, but to intelligence agencies or authorities based on the legal situation within the EU and also the UK. Therefore, I would say: HMA does not provide any anonymitybut many possibilities Privacy to protect the Internet.
Prices
HideMyAss invented "online product advertising", or so it seems, at least if you look at past developments. There are relatively high "list prices" which are reduced to a normal level through a steady campaign and there are four times a year where additional discounts are available. There is no question that HMA's advertising presence is perfect in every respect. The bottom line is that for "normal money" you get around $ 4 per month with good service with the largest selection of servers in the world.
All prices in detail
1 month running time
List: $ 11.95
Standard: $ 9.99
Action: $ 9.99
6 months term
List: $ 71.70
Standard: $ 59.99
Promotion: $ 44.99 (from $ 6.99 / month)
12 months runtime
List: $ 143.40
Standard: $ 78.70
Action: $ 59.99 (from $ 4.99 / month)
The current action can always be found here:
My summary
I find the service of HideMyAss VPN quite interesting, as he has a variety VPNLocations worldwide and also some extras I like. You can also assign a static IP address from any country or you can simply and automatically optimize the connections for speed. HMA is easy to use and offers good service. unfortunately not 100% Anonymous, but still ok.
!! UPDATE: There have been a lot of complaints from readers in the last few weeks about stability and speed issues, which is why I use the rating have adjusted in this regard.
For all of them my personal opinion too HideMyAss As a double agent, I recommend the following post: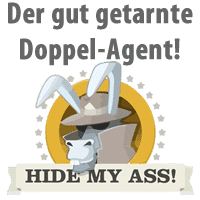 ---
Tips for anonymity and privacy with HideMyAss VPN
To put it a little more specific, I'd like to share a few tips on using HideMyAss VPN give.
The service is based on standard encryption, which can also be classified as very secure. This allows you to achieve a very good level of privacy if you also observe the measures:
Never unprotected without VPN to be on the Internet. Always use one VPN Tunnel, also on the smartphone. It is often the case that even programs such as Windows or even iOS transfer unrestricted personal data over the Internet. It then follows that then the own IP address and thus the own location is known.
Use the inkongnito mode of your web browser. Everyone offers this feature today, it should become the standard for you, even with the daily small activities on the Internet. But once you get used to it, it's a matter of course.
Always log out of search engines and websites like Facebook, Google, Yahoo, Instagram, etc. Many websites recognize users of these platforms and so your data and activities or searches are recorded on the Internet, even outside the websites of these providers!
Use trackingblocker like "Ghostery" to filter out other tracking tools that might recognize you. Ghostery is available free of charge and does not transfer any data back to the provider. You can also quickly install the extension on mobile web browsers and thus you block already 99% of all trackers on the Internet. The advantage is also that you mostly spared from annoying advertising and also.
Since you will live "cookie-free", you have to remember a lot of passwords to log in again and again. Use a password manager to encrypt your data. Then you just need to remember a password and can use elaborate passwords (example: 8CvgvTYniN32DrHjYcv $) and different for each web page without your comfort suffers. I use "LastPass" but there are countless tools for it.
Use more than one e-mail address for forum registrations or various websites. There are enough free e-mail services, if you have a provider that offers several "alias addresses", then make your own addresses for some groups of websites. You will be able to live without spam and will also be more difficult to identify.
If you implement these few advices, you will immediately experience more privacy and can no longer be tracked through the web. Anonymity then has something to do with the fact that you do not post with your real name anywhere in forums, but I think that's clear anyway! HideMyAss VPN will help you sensibly by making your Internet service provider or the company network "blind" to all of your activities online and you can no longer infer your origin based on your new IP address!
Created on:02/02/2016