CyberGhost VPN is a well-known in German-speaking countries VPN Service. If the service still had Romanian-German operators until recently, an Israeli investment company now looks after further operations and also customer advertising.
CyberGhost VPN - Empty promises
The CG advertising suggests absolute security and anonymity.
Advertising suggests that CyberGhost to protect the Privacy of users especially dedicated. You could almost believe that, because the privacy policy and other documents, which CyberGhost VPN Published on their own website, they can disguise how the service works in reality.
Who wants to come to the contradiction of the advertising claims and the reality on the ground, must already read several documents more closely and put together themselves. This is made more difficult by the fact that these text passages, which on the whole are a clear picture of the procedures, are not linked. Apparent transparency is used to intentionally omit information and to make it difficult for the individual reader to get an actual picture.
Advertising works, but the terms and conditions do not always hold what was promised.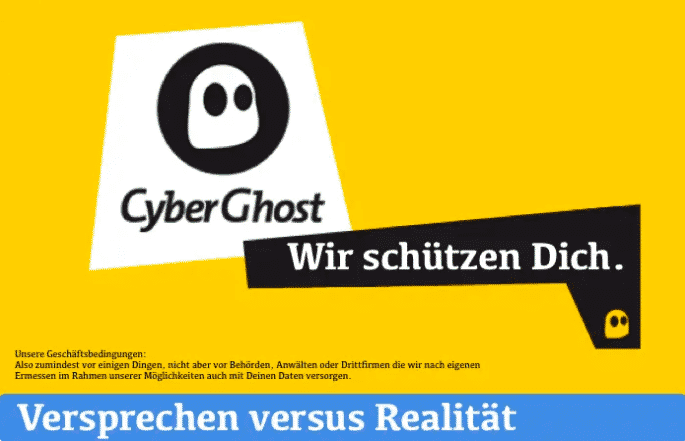 In advertising, it looks like that, but in the terms of use is then in detail:
Privacy Policy of CyberGhost
https://www.cyberghostvpn.com/de_DE/datenschutz
Why do we collect your personal information?
We collect the personal data for the following purposes:
To service improvement and personalization of the user experience with Cyberghost VPN
To properly administer our website and our business
Fulfillment of the contract between you and us, and / or steps we perform at your request to enter into such a contract
Scientific research, fraud detection & prevention and service improvement
To inform you about our new services or changes to our existing services
To send you technical or service related messages
To enforce the terms of use
customer analysis
...
Extract from the Terms of Use of CyberGhost:
https://www.cyberghostvpn.com/de_DE/agbs
8. Your responsibility
...
You are bound by the user agreements, applicable laws and other regulations and are responsible for compliance with them. You understand that CyberGhost assumes no responsibility for your activities. In the event of user violations, CyberGhost is within the legal framework committed to cooperate with authorized public and private criminal and law enforcement authorities and agencies.
...
It gets even more accurate when you look at the English version:
https://www.cyberghostvpn.com/en_US/terms
8. Your responsibility
...
The present use agreement, the applicable laws and regulations are binding for you and you are the only one responsible for the observance thereof. You understand that CyberGhost undertakes no responsibility for your actions. In case of violations by the user, Cyberghost may cooperate with public or private authorities at its sole discretion as provided by law.
...
Cyberghost can work with public or private authorities / companies at its sole discretion!
---
Now how can you imagine that in detail?
CyberGhost VPN has locations in Germany, Romania and also Israel (owner). In this context, "legal obligations" and cooperation with "private law enforcement authorities" refer to the warning lawyers. This means that CyberGhost uses data about the use of the service and, in the event of copyright infringements, compiles and passes on corresponding data of the user concerned. In the German-language version of the terms and conditions, there is no legal obligation to do so, the same version of these terms and conditions in English, but instead acknowledges at "own discretion when disclosing the data to third parties". The fact that this is a translation error can now be excluded. Presumably, only tell-tale words that would describe the actual scope of the data transfer are left out in "German". After all, German-speaking customers are particularly critical when it comes to data transfer and wording in terms and conditions.
Created on:01/06/2019