VPNSuppliers & Services often offer special promotions and offers to attract new customers. You can also save a lot as an existing customer, if you change the tariff at the right time.
VPN Discounts 2018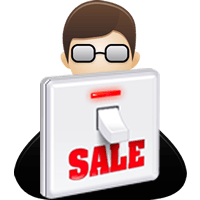 It's hard to get an overview "Discount Jungle" to keep, but I just try it once 🙂 If you learn of an action that you want to share with others, then write me this please. I will publish it here too. The discounts, which have no expiration date, or this is not known to me, just have the status of my last visit to the provider. And if you find mistakes, you are welcome to keep them! But I try to lead only really good and interesting actions here. The providers which have a very high list price and discount the whole year with 90% so that they seem cheap, I leave out.
Recommendation - try it for free!
Nevertheless, I recommend, even if so many offers may sound as tempting as before, according to the test reports to read. My, of course, very special 🙂 But there are also many ways you can VPNProviders can also use or test for a limited time and even unlimited. I have a separate page on this topic "VPN use for free!" dedicated. Look over there too, because you can often save a lot of money with small tricks!
| | | | | |
| --- | --- | --- | --- | --- |
| Trader | Discount | from / Mon | validity | offer link |
| NordVPN | 36 months for $ 107.55 / $ 2.99 per month instead of $ 69! | $ 2.99 | Yes, still active | to offer |
| IvacyVPN | 24 months IvacyVPN for only $ 54 / $ 2.25 per month! | $ 2.25 | Yes, still active | to offer |
| VyprVPN | 12 months PREMIUM tariff instead of $ 48.75 only $ 42 ($ 4.06 per month) This of course 30 days money back guarantee. This is probably the best price since I know the service! | $ 4.06 | Yes, still active | to offer |
But now comes soon again Easter, and I expect many new offers in the coming days VPNProvider additionally.
Generally the main times are for VPN-Discount actions:
New Year discounts - beginning to middle of January
Super Bowl discounts - Mid-February to the end of February
Easter Discounts - mid-March to mid-April
Summer% discount/ Offers - mid-July to the end of August
Blackfriday - End of November
Cybermonday - Beginning of December
holiday deals/ Discounts - mid to end of December
The exact dates vary from year to year of course, as well as the holidays always vary slightly 🙂 So do not nail me ...
---