fritzbox VPN: The AVM Fritzbox is one of the best known and most used internet access routers in Germany. As a German company, AVM has created a product that has been recommended by many Internet providers for years and has been supplemented with functions that most closely matched German user requirements.
fritzbox VPN: Why the Fritzbox "OpenVPN Client "can not!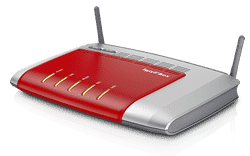 In the consideration of the achievements of AVM over it must be noted however also that AVM plays in world-wide comparison practically no role. As a result, the products are sold practically only in Germany and therefore has basically low produced quantities. Therefore, despite a very high price of the devices for the consumer, in hardware equipment significantly saved. The hardware resources are also crucial or necessary when it comes to integrate more modern software functions in the router today. Due to the lack of resources of the devices arise hardware-intensive applications such as malware filtering, virus filtering and also VPNClient usage via OpenVPN as no longer possible.
VPN Server + VPN Client with Fritzbox routers
The AVM Fritzbox has both functions Server + Client for VPNIntegrated connections. However, this is done by means of a very proprietary VPNProtocol "IPsec x-auth" enables. It is therefore possible for users to connect to the router directly on the go using one of the available Fritz apps. But that too VPN Have the Fritzbox router connected to each other (site networking).
Application: Fritzbox with one VPNService connect fails.
Do you want the Fritzbox, however, with a VPN If you use a service to anonymize or circumvent geographic restrictions, then you face the problem that it is the available one VPNProtocol "IPsec x-auth" simply by none VPNService is supported or offered.
The IPsec protocol was developed by Cisco many years ago and has long been standard in transmission, but the protocol had significant weaknesses, mainly because of the need for a public and accessible IP address as a client to connect to VPNTo build servers. This circumstance means that connections are often not possible due to local network restrictions, for example in hotels, private company networks or modern DOCSIS (KabelTV-Internet) connections.
The solution was IEKv2
This circumstance was only realized by the next version of IPsec (IEkV). This new standard IEKv2 is now also used in Android, Apple iOS and macOS and Windows has also recently adopted this protocol natively in his system. IEKv2 is however through the VPN Fritzbox not offered.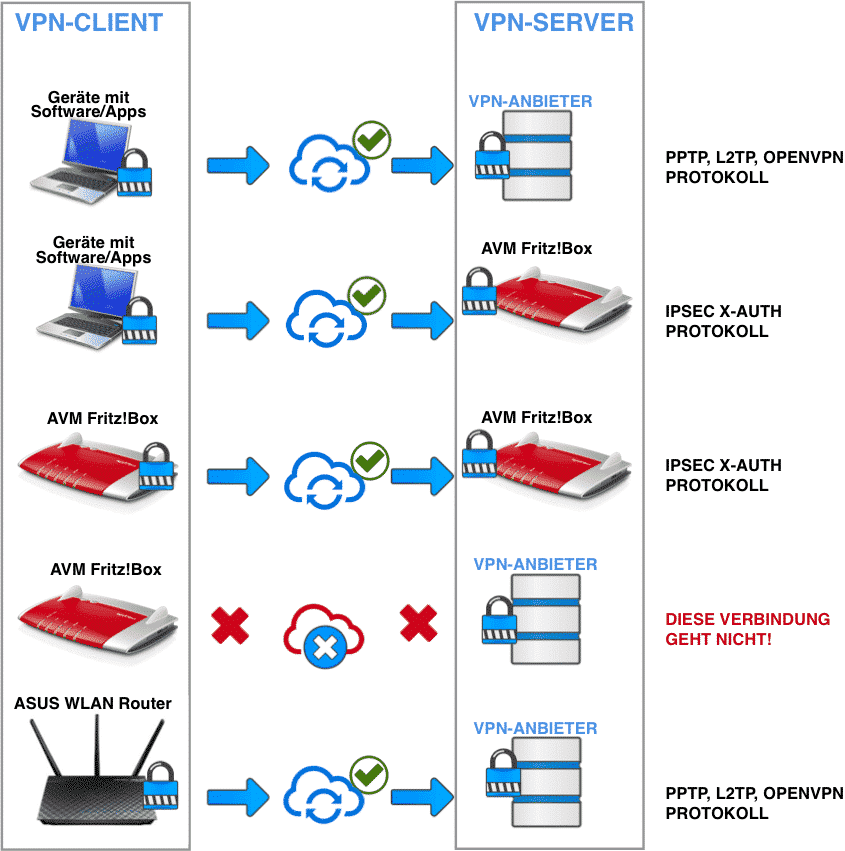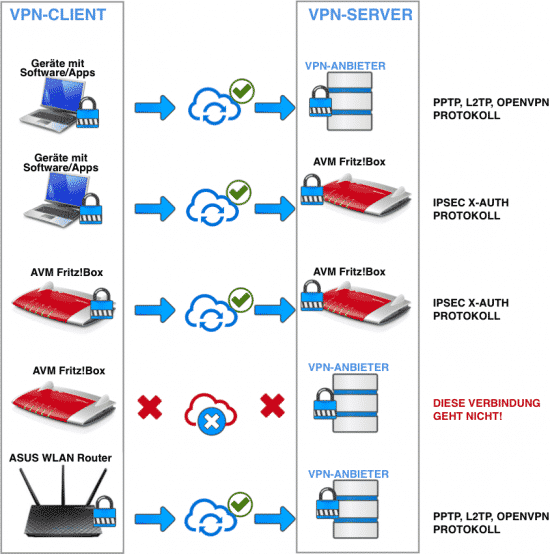 Inquiries from AVM confirm the future without further ado VPN-Client (protocols)
When I asked again this year at AVM, whether an update of the used IPsec versions on the Fritz boxes is planned or planned, but I was again confirmed, as this would have no compatibility with the devices already on the market, one so does not follow such a step. In addition, IPsec x-auth is also sufficiently secure.
That's true, but just goes past the requirements of many customers who would like a way, the Fritzbox with more modern VPNServers or services directly.
The integration of OpenVPN, requires a massive conversion of the firmware.
Would the Fritzbox but with VPNServices would be compatible, then the operating system would have to be rethought or developed in many parts and adapted. Because what happens if someone uses IP telephony on the Fritzbox? For authentication but in Germany, the IP address of the Internet service provider and a prerequisite VPN-Service would Fritzbox then not be able to log on the phone servers.
Therefore, it then needs a regulated way to be able to define exceptions. However, this also means a different handling and routing behavior, which is currently not available. However, changes due to the then expected problems with existing routers and users are rather undesirable.
Thus, the Fritzbox will offer no opportunities in the future, with professional VPNConnect services.
FakeNews: "You can Fritzbox with NordVPN connect."
Websites that promise VPN Enabling Fritzbox simply entices users to buy a service!
Even if many website authors may agree that. (I've found many articles that have the intent to search terms using the Google search engine VPN + Fritzbox to score, but the information to use the Fritzbox with a VPN Service could be met there I could never understand. So it's just not what is promised there. A good example is "bestvpn.co"This site tells a lot about the great connections of the FB with a favorite VPN (ExpressVPN) but in the end there is no way to do this.
So just to make it clear once again:
NO current AVM Fritzbox router can be with a VPNConnect service directly!
Whoever promises you that, lies to you!
Alternative Fritzbox firmware "FREETZ" use!
Yes, there is the possibility of alternative firmware Fritzbox with OpenVPN Client or equip and thus with VPNServices. The only project this currently offers is Freetz, (Official Github project page)
The project was accepted as a great innovation sometimes even by AVM and you obviously wanted to see there, what alternative developers could install in the Fritzbox still everything. But it quickly became clear that the approach to use a different firmware also creates security risks for the users and then could damage the image of the Fritzbox itself. Why AVM strictly opposed this project. Users who use FREETZ on their Fritzbox once lose permanently any support by AVM.
Why is this firmware alternative for Fritzbox router in the end failed?
Also AVM regularly improves with new features the firmware of the router. This is a normal process and requires that developers from the sections (routing, Wifi, telephony, firewall, etc.) are available for every change and give their OK for new releases. Now private initiatives such as those of FREETZ are mostly based on individual functions and developments, and must also be based on existing firmware. Because only these ensure that the installed hardware can also be used.
In the end, therefore, the developers of FREETZ simply ran out of their own resources,
they could no longer study the updates of AVM directly and quickly enough themselves and then adapt their own applications. As a result, FREETZ users could not join 4-6 in various version updates to the current firmware. This also means that these routers are very outdated in security updates and some still struggle with telephony and other extra features with known bugs.
FREETZ users are experimentally on the go, also waive AVM help and security updates
Advantage of the available "OpenVPN Client ", but very slowly!
The advantage of having an openVPN Of course, connecting servers is possible. But it takes up the already mentioned circumstances. OpenVPN needs a lot of hardware resources to enable fast data exchange. Fritzbox hardware is not enough available or not designed for this purpose. Hence connections to OpenVPN Servers are rarely faster than 3 to 5.000 kbit / s. But for most of today's applications this is far too slow.
So this is OpenVPN Client function but as good as unusable.
Info: Freetz has also not been developed for more than 3 years, which results in further disadvantages that possible security gaps are no longer addressed and closed.
Conclusion on using the Fritzbox VPN Router with modern VPN-Services
I've been looking for solutions for years, it seemed to be tempting, one of the most used German router with VPN-Services to protect the identity or to protect against warnings. In addition to the theoretical feasibility of the project showed that the implementation in practice is insufficient and therefore not suitable for normal users. It remains for me the bitter realization that I have to share with many Fritzbox friends so that AVM Fritzbox router can not be used today or in the near future.
VPN in the home network, there are viable alternatives
Therefore, I have developed alternatives and have already given tens of thousands of users the opportunity to still have their own home networks VPNSecure or permanently protected against warnings or geographical limitations. (Link: 10 Tips for Security on the Internet).
These alternatives are easy to use in practice and are also independent of the ones used VPNServices. In doing so, I always use in my instructions only already developed and also by router manufacturer supported solutions, because only these also guarantee that security updates for the routers will not lead to a loss of functions.

I therefore like to recommend my extensive contribution "VPN use in home network ". In this I go into all the details and also show the practical implementation with instructions. With less than 30 euros investment, all devices can be used at home with a Fritzbox as an Internet router VPNUse service.
---
Frequently asked questions about the Fritzbox VPN Services
Can I use my Fritzbox with a VPN connect?
No. Fritzbox routers use one VPNProtocol that no one VPNService is used on its servers. Therefore you can not VPN Use the service directly.
Can my Fritzbox with NorthVPN connect?
No. northVPN supports the VPNProtocols: OpenVPN, IEKv2 but not in the Fritzbox IPsec x-auth protocol used. Therefore, a direct connection of the Fritzbox to a northVPN Server not possible.
Will AVM soon the VPN Integrate function?
Generally AVM has in the VPN Fritzbox router already has its own protocol integrated to enable connections to the Fritzbox or between Fritzbox routers (company network). According to AVM, there are no plans to expand these connection options. There are also numerous technical reasons against this.
How fast is that VPN Connection with Fritzbox VPN?
You can connect to a Fritzbox with the Fritzapps or two Fritz boxes with each other. The measured data transfer rates with new Fritzbox models have never exceeded 5.000kbit / s, so this can be considered the fastest way to connect.
Can be flashed by><the Fritzbox VPN use?
Yes. An alternative firmware> FREETZ <can also be used for OpenVPN Use client. However, this is also the end of other services like using telephony VPN Fritzbox and the achievable speeds are due to limited hardware optimization with OpenVPN at less than 5.000kbit / s why the further development of the alternative firmware before 4 years has already been discontinued.
Questions & Help
For questions and help about Fritzbox VPN I am also happy to help. I have been dealing with AVM Fritzbox routers and this topic since 1998, so I like to share my experience in direct communication with my readers.
As always, you reach me right under one of the many Contact possibilities.
Created on:10/19/2019